Advertisement

It did not name the country whose defense and nuclear capabilities were cited in the document…reports Asian Lite News
One of the classified documents seized by the FBI at former US president Donald Trump's Florida residence described the nuclear capabilities and military defenses of a foreign power, The Washington Post reported Tuesday.
The newspaper, citing unnamed sources familiar with the case, said that some of the documents found in Trump's Mar-a-Lago residence were so highly classified that only the president and cabinet or near-cabinet level officials would be cleared to authorize other government officials to access them.
It did not name the country whose defense and nuclear capabilities were cited in the document.
According to the Post, such documents require special clearances on a need-to-know basis, rather than a generic top-secret clearance.
There were no details as to where in the residence, which also serves as a private members club, the highly sensitive material was found, or under what type of security.
Trump is facing mounting legal pressure, with the Justice Department saying top secret documents were "likely concealed" to obstruct an FBI probe into Trump's potential mishandling of classified materials.
When agents searched the Mar-a-Lago resort on August 8, they found material so sensitive that "even the FBI counterintelligence personnel and DOJ attorneys conducting the review required additional clearances before they were permitted to review certain documents," a government court filing said.
The FBI raid came after a review of "highly classified" records that Trump finally surrendered to authorities in January after months of back and forth with the National Archives and Records Administration.
The 15 boxes handed over by Trump were found to contain 184 documents marked as confidential, secret or top secret.
After prompting from the FBI, Trump's lawyer eventually turned over an additional 38 classified documents — and provided "sworn certification" that they represented the last of the material.
But the FBI went on to uncover "multiple sources of evidence" showing classified documents remained at Mar-a-Lago.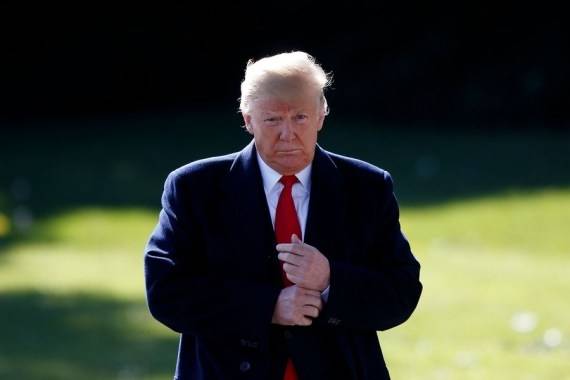 Trump media deal suffers blow
The blank-check acquisition firm that agreed to merge with former U.S. President Donald Trump's social media company failed on Tuesday to secure enough shareholder support for a one-year extension to complete the deal.
At stake is a $1.3 billion cash infusion that Trump Media & Technology Group (TMTG), which operates the Truth Social app, stands to receive from Digital World Acquisition Corp, the special purpose acquisition company (SPAC) that inked a deal in October to take TMTG public.
The transaction has been on ice amid civil and criminal probes into the circumstances around the deal. Digital World had been hoping that the U.S. Securities and Exchange Commission (SEC), which is reviewing its disclosures on the deal, would have given its blessing by now.
Digital World Chief Executive Patrick Orlando told a special meeting of his shareholders on Tuesday he would push back to noon on Thursday the deadline for the vote on extending the life of the SPAC by 12 months.
Digital World needs 65% of its shareholders to vote in favor of the proposal, but the support as of late Monday fell far short, Reuters reported. Digital World did not disclose the margin on Tuesday.
Digital World shares ended trading in New York on Tuesday down 11.4% at $22.13.
Digital World is set to liquidate on Thursday and return the money raised in its September 2021 initial public offering to shareholders unless action is taken.
Digital World shareholders had been given more than two weeks to vote on the SPAC's extension and it is unclear if two additional days will make a difference. Most Digital World shareholders are individuals and getting them to vote through their brokers has been challenging, Orlando said last week.
Digital World said in a statement that if its shareholders do not approve the one-year extension on Thursday, its management plans to exercise its right to extend the life of the SPAC by three months unilaterally. The SPAC managers will lend $2.875 million to the SPAC as part of the arrangement, Digital World said.
The SPAC managers have the right to unilaterally extend the life of the SPAC one more time, till March. It is unclear whether this would provide enough time for regulators to reach a conclusion on whether to allow the deal to proceed.
A TMTG spokesperson said the company will continue cooperating with all stakeholders on the merger and that it hoped "the SEC staff will expeditiously conclude its review free from political interference."
An SEC spokesperson did not immediately respond to a request for comment.
Trump appeared to manage expectations for the deal with a post over the weekend on Truth Social: "I don't need financing, 'I'm really rich!' Private company anyone???"
Digital World has disclosed that the SEC, the Financial Industry Regulatory Authority and federal prosecutors have been investigating the deal with TMTG, though the exact scope of the probes is unclear.
The information sought by regulators includes Digital World documents on due diligence of potential targets other than TMTG, relationships between Digital World and other entities, meetings of Digital World's board, policies and procedures relating to trading, and the identities of certain investors, Digital World has said.