Advertisement

Trump tried wrenching the steering will of his car at WH to go to Capitol Hill despite security advice that the mob was turning violent….reports Ashok Nilakantan
Shocking revelations that former US president Donald Trump coerced security personnel to remove "magnetometers" (devices that detect weapons) from CH and allow his protesters to move freely were made before the democratic Senate Special House Judiciary Committee probing the January 6 Capitol Hill riots.
He tried wrenching the steering will of his car at WH to go to Capitol Hill despite security advice that the mob was turning violent.
Cassidy Hutchinson, a former top aide to the final White House Chief of Staff Mark Meadows, made this accusation before the senate saying her boss Meadows did nothing to handle it, but only sought pardon, which was denied in quick succession by Trump as false in his Truth Website.
The surprise hearing on Tuesday (June 27), of the special House committee investigating the January 6 attack enlivened the drama that preceded it, providing in meticulous detail of the most intimate picture yet of then President Donald J. Trump's actions as a mob was assaulting the Capitol in his name, reports the New York Times in its detailed coverage of the hearings on the net.
The almost Hollywood style testimony by Cassidy Hutchinson, a trusted longtime aide of Mark Meadows, the White House chief of staff, portrayed the president as almost unhinged with fury when his Secret Service detail told him he could not go to the Capitol as his supporters, many of them armed, descended on it.
Hutchinson said the former president was little concerned of the violence threat as advised by his secret service and instead said they were not targeting him. The ex-president reportedly sympathised with the armed mob which chanted for the execution of Vice President Mike Pence, who flatly refused his pleas to overturn the election as advised by the lawyer Rudy Guiliani. Cassidy said senior aides had tried in vain to persuade Trump to call off the mob, but he resisted for hours. Her testimony stunned everyone in the committee.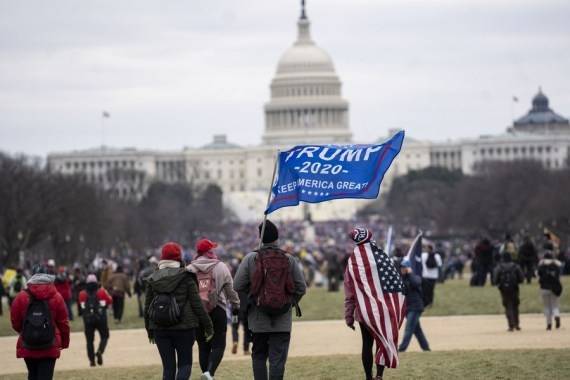 The accusations made against Trump
'They are not here to hurt me.' Trump thus encouraged an armed mob to go to Capitol Hill.
He wanted security officials to allow people milling outside the security perimeter into the space in Capitol Hill so the event would appear well attended. "They are not here to hurt me," he said, according to Ms. Hutchinson, who was within earshot of the president at the time.
Using a string of expletives, Trump, she testified, wanted the security features like magnetometers that detect concealed weapons removed.
She claimed the president was duly informed that his supporters were violent and had come armed with guns, knives, spears and flagpoles, and wearing body armor. Despite this, Trump encouraged them to go to the Capitol anyway, a detail that could prove legally problematic for him, says New York Times in its report. The ex President reportedly used the abusive term "f…k" devices five times and to remove them, allow the crowd to move freely.
Trump refused to call off the mob
Responding to appeals from Pat Cipollone, the White House counsel, Meadows had said that former president Trump was not inclined to try to call off the mob, according to Hutchinson's account. "He doesn't want to do anything," Meadows told the White House lawyer when informed that violence was breaking out. Cipollone tried a second time, noting that the mob was chanting, "Hang Mike Pence."
"You heard him, Pat, he thinks Mike deserves it," Hutchinson said Meadows responded. "He doesn't think they are doing anything wrong."
Trump had bouts of fury
Prone to rage, Trump, as his attempts to get the election results overturned fell on deaf ears in his administration, he was angry at hearing on December 1 that Attorney General William P. Barr had publicly declared the Trump allegations of widespread voter fraud unfounded, Hutchinson said.