Advertisement

The seven Tandavas of Lord Shiva were presented through a variety of dance forms
Sapta Tandava- a theme that remained unexplored in the dancing scene in Britain, was presented at The Bhavan recently.
Sanskruti Centre for Cultural Excellence has pioneered another interesting subject- the seven Tandavas of Lord Shiva, which were presented through a variety of dance forms- Yakshagana, Odissi, Bharatanatyam, Kathak, Mohiniattam, and Kuchipudi.
The event titled Sivoham was attended by 300+ audiences coming from different parts of England. Renowned Author Amish Tripathi, Minister (Culture & Education), and Director of Nehru Centre, London was the Chief Guest of the function where he befittingly gave the opening words on Shiva, his reverence and relevance.
He also commended the artists and the organisers for bringing out such a salient subject. Invocation to Shiva was rendered through classical and tribal dances by young and old alike, on Panchakshari stotra and rare folklore.
Sapta Tandavas were then beautifully presented by Shivani Bhandari, Arya Arun, Yogindra Maravante, Lakshmi Aveen, Ragasudha Vinjamuri, Manju Sunil, and Dr. Pritha Dasmahapatra, while the context of each Tandava was explained as a prelude.

Centuries-old compositions of Shahuji Maharaj of Tanjavur,(Chhatarapati Shivaji's grand nephew) Mahadeva Sambho of Andhra Pradesh, etc. in Sanskrit, Marathi, and Telugu were used for the depiction.
The concept is conceived and executed by Ragasudha Vinjamuri, who herself presented one of the Tandavas, Dr. Mattur Nandakumara, Executive Director of The Bhavan felicitated the artists. The vote of thanks was rendered by Sushil Rapatwar and the program was anchored by Radhika Joshi and Raj Agrawal.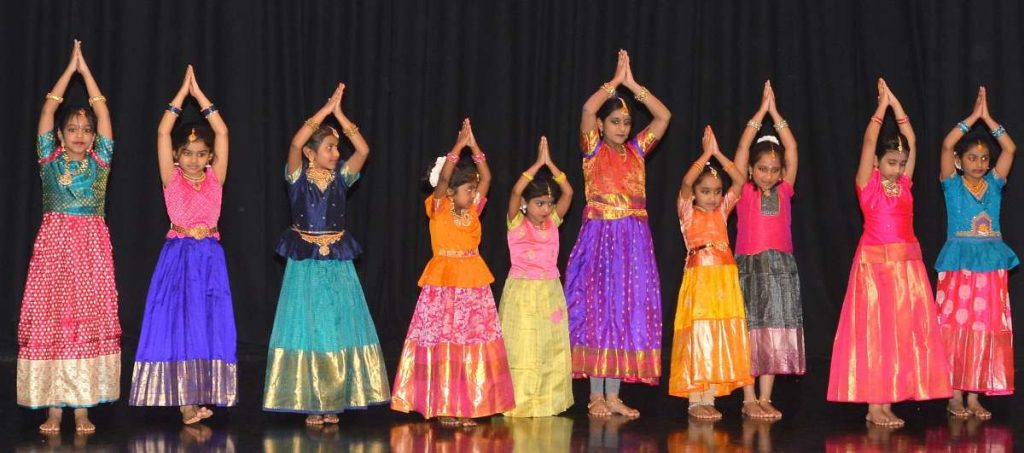 Invocaton dances were presented by Devanshi Patel Uppula, Swechha Manikireddy, Harsheta Pratap, Vutpala Sai Samruddhi, Diya Shanmugam, Sucheta Mangalagiri, Kaavya Rapatwar, Ayati Yuvaraj, Shravani Shivashankar, Aditi Mote, Madhusri Prasanna, Darshika Vijay, Sreehitha Shunkishala, Pritika Sivakumar, Medha Sunil, Dr. M Srinivasa Rao, Vanamala Accha, Ahana Hegde, Ananya, Shirisha Devraj and Shreya.
Sanskruti Centre has been presenting culturally and socially important subjects through classical dance, researching & highlighting folk and tribal dance traditions and linguistic diversity of India for the past 14 years in the UK.