Advertisement

The festival is being organized at Little Theatre Group Auditorium, Copernicus Marg, New Delhi from 4th – 11th June 2023…reports Asian Lite News
Natya Kumbh aims to foster a vibrant and inclusive theatre community, where artists can thrive and audiences can immerse themselves in the magic of live performances. Through the festival the organisers aim to provide a platform for talented playwrights, actors, and theatre enthusiasts to showcase their art and connect with audiences who appreciate the power of storytelling.

Vibgyor launches its first intellectual property in the space of theatre – Natya Kumbh, a not-for-profit initiative, reaffirming its commitment to the growth and development of the theatre industry in India.
Natya Kumbh is a festival of theatre, celebrating the drama and dramatist spanning across various genres – from comedy, drama, satire to patriotism. It consists of 9 plays written by celebrated Playwright Mrinal Mathur which will be performed during this week-long festival. Each of the plays are directed and performed by leading theatre troupes and directors from all across the country. All the plays are insightful and not one-sided to provide a meeting ground for different ideas and ideologies.
The festival is being organized at Little Theatre Group Auditorium, Copernicus Marg, New Delhi from 4th – 11th June 2023.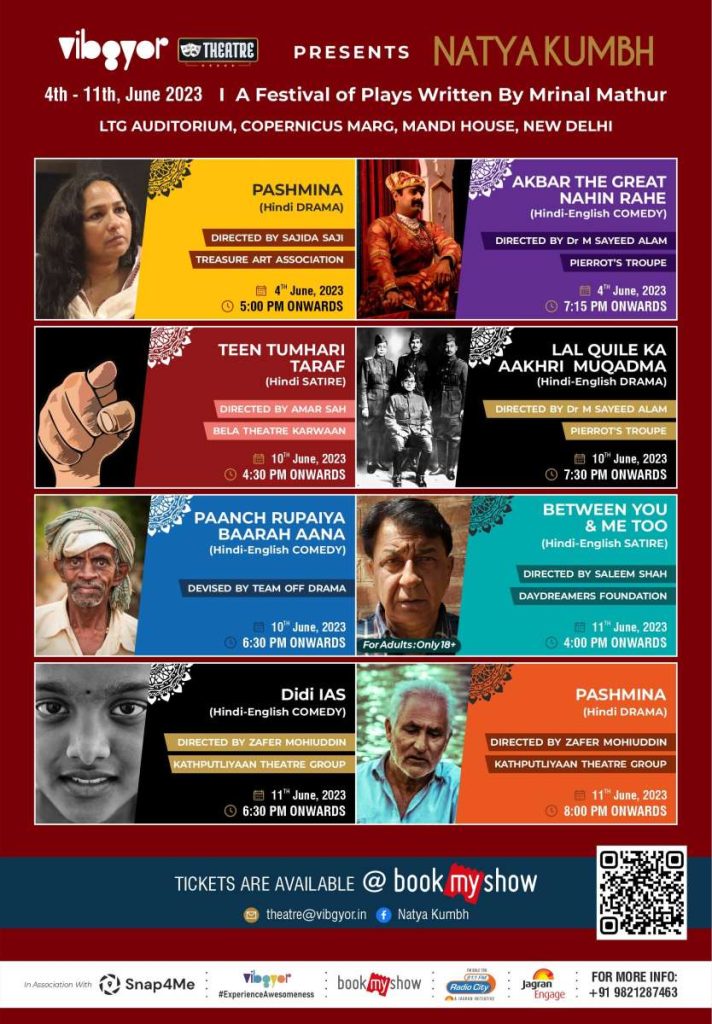 Natya Kumbh represents a contemporary experience so that audience sees relevance. Convenient to stage and travel with so that more and more people across the country see plays more often. It is insightful and not one-sided, so it provides a meeting ground for different ideas and ideologies. The vision is to travel all over the country and make this mission. Over time, the plan is to involve more theatre people in the movement as long as they bring to the table plays that have an independent playwright's originality, insight and ambivalence at their core.
Some of the subjects that plays of Natya Kumbh touch upon are Kashmir, The Farm laws and farmer's movement. India's History and suit political narratives. The hypocrisy of the middle class. The #MeToo movement. Gender, power and Feminism. The INA trials and contemporary protest movements. India's soul numbing bureaucracy. In these plays, there are several issues; issues that would normally trigger hyperbole, but are dealt with compassion. Sometimes with biting satire, often with humorous wordplay. Sometimes by taking recourse to myth, sometimes to history. By wearing a sardonic lens at times and at times, with geniality; but always with drama and emotional power. These plays will be performed and read by some of the leading theatre groups of India.
 Ankur Kalra, Managing Director Vibgyor and Producer of Natya Kumbh Festival states, "In today's day and age where the consumer is bombarded by an overdose of content online, they are more drawn towards live experiences which they can relate to and there is no live experience as powerful and moving as theatre. We see Natya Kumbh as the beginning of a movement which helps bring alive conversations in today's polarized world. We plan to take this to multiple cities across the country post the successful completion of the first edition in New Delhi".