Advertisement

Rampur Distillery has launched a limited edition Diwali Spiced Manhattan Bottled Cocktail made with Rampur Double Cask Indian Single Malt Whisky. This Diwali Spiced Manhattan is the perfect blend of Rampur Double Cask Indian Single Malt Whisky, Sweet Red Agora Rosso Vermouth and Bittermens Buckspice Ginger Bitters. Each bottle contains five cocktails. Simply stir over ice, pour into a chilled coupe glass and garnish with a dehydrated orange wheel. A feature by columnist Riccha Grrover for Asian Lite International.
The Diwali Spiced Manhattan bottle is adorned with Diyas, which are oil lamps or decorative candles that are lit during Diwali festival celebrations.
Rampur Double Cask Indian Single Malt Whisky
Produced at India's oldest distillery, Rampur Distillery, located in the foothills of the Himalayas, Rampur Double Cask Indian Single Malt Whisky is distilled in traditional copper pot stills. The malt matures for two-thirds of its life in handpicked American Bourbon Barrels and a third in European Oak Sherry Casks before being non-chill-filtered.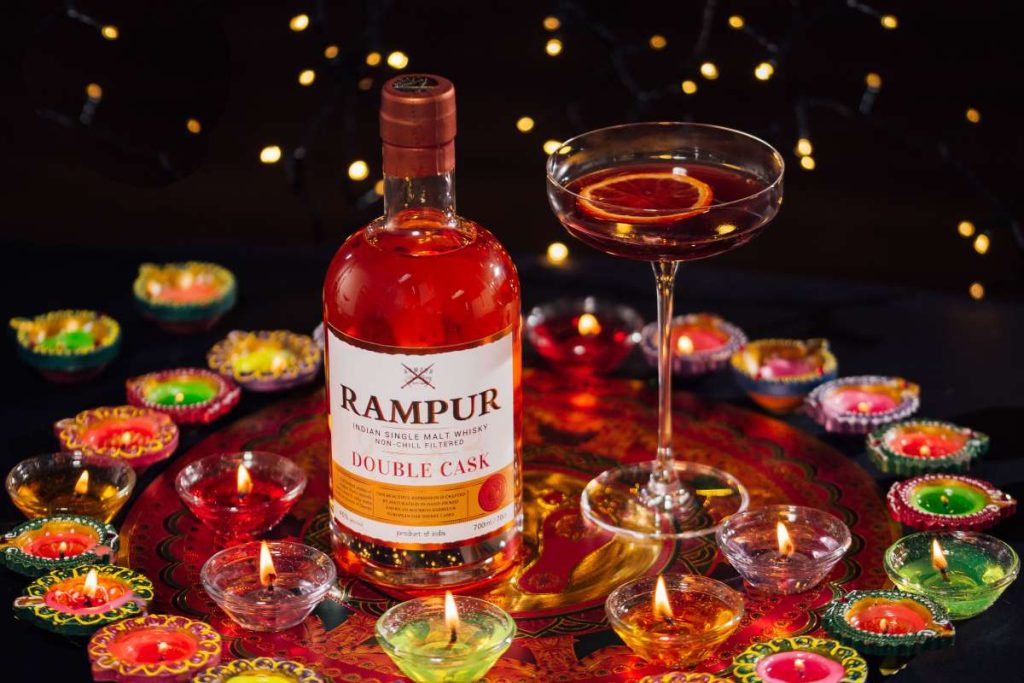 Jaisalmer Gold Indian Craft Gin
Jaisalmer Indian Craft Gins are also produced at Rampur Distillery and the latest expression, Jaisalmer Gold also makes for a great Diwali gift.
Jaisalmer Gold Indian Craft Gin is infused with 18 handpicked botanicals, of which 14 have been sourced from India including Coriander from Jaisalmer, Saffron from Kashmir, Nagpur Orange Peel, Darjeeling Green Tea, Gandharaj Lemon Peel from Eastern India, Nutmeg from Karnataka, Cinnamon from Kerala, Locally Sourced Rose Petals from around the distillery, Lemongrass, Bay Leaf, Liquorice Root, Vetiver, Black Pepper and Pink Pepper. Other botanicals include Juniper Berries, Angelica Root, Carraway and Cubeb Pepper.
It takes between 150,000 – 250,000 saffron crocus flowers just to get 1kg of saffron threads and it takes many hours to handpick the flower and pick the threads. The liquid is then enhanced by Gold filtration to produce Jaisalmer Gold Indian Craft Gin. This unique production process occurs wherein the Gin slowly passes through a filter made of intertwined golden silk filament, enriching the Gin with gold ions and providing a clean, smooth and balanced taste.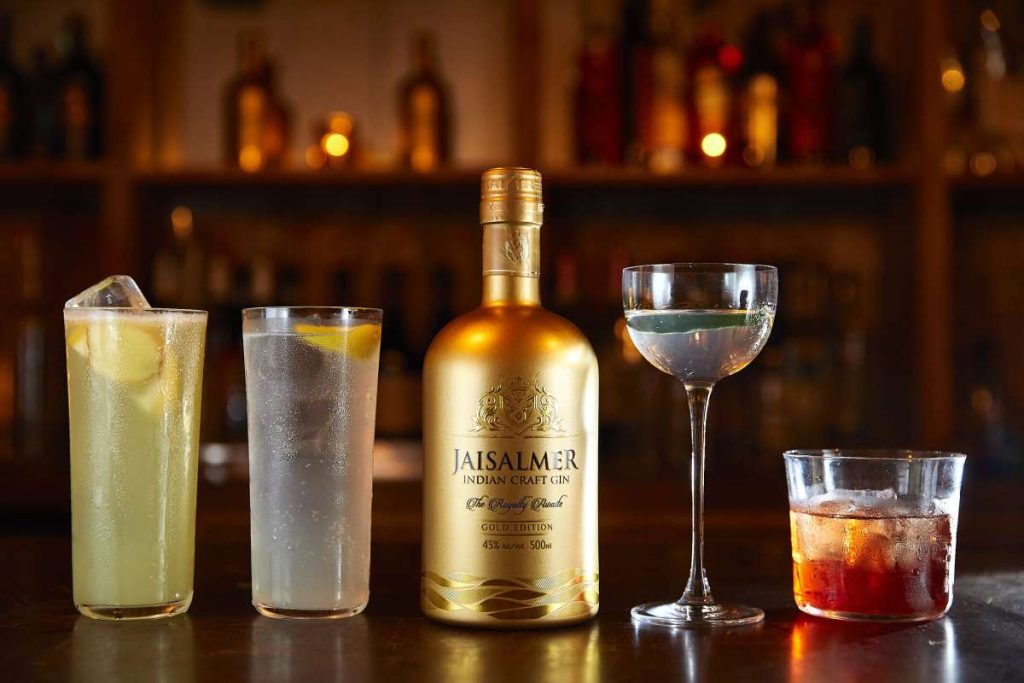 The bottle is inspired by the timeless architecture of the palaces and windows carved out of yellow sandstone in Jaisalmer.
About Radico Khaitan
Radico Khaitan Limited is among the oldest and one of the largest manufacturers of Indian Made Foreign Liquor in India. Earlier known as Rampur Distillery, Radico Khaitan commenced its operations in 1943 and over the years emerged from a major bulk spirits supplier and bottler to other spirit manufacturers to the originator of over fifteen organically grown brands.
ALSO READ: Masala Zone Soho: Regional Indian Food At It's Best in London
Advertisement