Advertisement

Masala fried chicken is a mouth-watering dish that allures the taste buds with its flavourful and crispy exterior. This dish highlights the fusion of aromatic Indian spices with the comfort of fried chicken. Masala fried chicken combines the best of both worlds, blending fried chicken with the bold and aromatic spices of Indian cuisine.
It is a dish that satisfies cravings and leaves a lasting impression, reminding us of the diverse and flavourful culinary traditions that make our taste buds sing. Treat you mother with some delectable Granny's Masala Fried Chicken fromFreshToHome.
Recipe:
• Unpack the pouch and transfer to a container
• Scrap all the masala from the pouch. Mix the contents
• In a kadai or sauce pan pour oil and heat up. When oil is hot, carefully drop the chicken pieces one by one taking care the hot oil doesn't splash on to oneself
• Allow to fry the chicken for 8-10 minutes. Strain out the fried chicken pieces and transfer to a plate with a kitchen tissue or napkin so that excess oil is absorbed
• Serve along with lemon wedges, onion slices and any sauce of ones liking(optional)
• Enjoy as a starter or as an accompaniment along the meal
Recipes from FreshToHome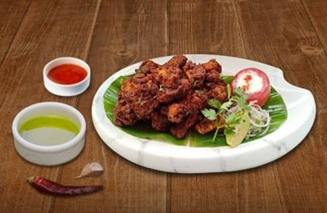 Coconut chicken curry
Coconut chicken curry is a tantalizing blend of flavours that brings together the richness of coconut, the succulence of chicken, and the aromatic spices of Indian cuisine. This curry is a delightful combination of creamy and spicy, creating a harmony of flavours that dance on the palate. Coconut chicken curry is not just a meal; it is a culinary experience that celebrates the art of blending ingredients and spices to create a symphony of flavours. From the first bite to the last, this dish is a testament to the richness and diversity of Indian cuisine and Mother's love.
Recipe:
• Unpack the coconut chicken packet and transfer to a bowl and mix to refreshen
• Take a shallow kadai or sauce pan and heat up on the stove
• Add 1 tbsp of oil (preferably coconut oil, if not available refined oil is fine)
• When the oil is hot add the marinated chicken and saute for few minutes so that the masala turns slightly thick Add 200 ml of water and stir so that the water and masala is well mixed
• Cover with a lid and cook on a slow flame for a good 12-15 minutes so that the chicken gets cooked and the masala becomes thick and coats the chicken
• Check for salt and transfer to a pan to serve
•              Garnish with some fried curry leaves to garnish
ALSO READ-Recipe: Shawarma Sandwich