Advertisement

In India, Ganesh Chaturthi is not just a religious event; it's a culinary feast that brings families and communities together. It's almost time for him to come and the air is filled with excitement as we welcome him into our homes, seeking his blessings for prosperity and happiness! A significant aspect of the festival is the preparation of Lord Ganesha's favorite foods.
Join the culinary journey as we explore a delightful array of recipes perfect for this festive season from Simple Recipes with Sanjeev Kapoor and The Tastes of India Podcast on Audible, allowing you to share the joy with your loved ones.
Here are four dishes from renowned chefs Sanjeev Kapoor and Puja Darshan to relish during the celebrations:
Chocolate Coconut Laddoo by Puja Darshan
Ingredients:
2 cup freshly grated coconut
1/2 cup condensed Milk
100 gm semi-sweet dark chocolate
1/4 cup melted white chocolate
Method:
Dry roast the grated coconut in a pan over low heat for approximately 3-4 minutes.
Once the coconut is adequately roasted, transfer it to a bowl and allow it to cool completely.
Grind the roasted coconut into a fine powder and place it on a plate.
Mix the ground coconut powder with condensed milk until well combined.
Take portions of the mixture, shape it into round ladoos, using a touch of ghee on your palms to prevent sticking. Place the laddoos in the refrigerator for about 30 minutes to firm up.
While the coconut balls are chilling, melt dark chocolate for coating.
Remove the coconut balls from the freezer and, one at a time, dip each into the melted chocolate. Ensure they are evenly coated.
Gently tap off any excess chocolate and place the chocolate-coated balls on a sheet of parchment paper. Repeat the same coating process for the remaining laddoos.
Drizzle melted white chocolate over the chocolate-coated laddoos for an extra touch of flavor and decoration.
Chill the laddoos until the chocolate hardens (which should take 15 minutes) and enjoy tasting them!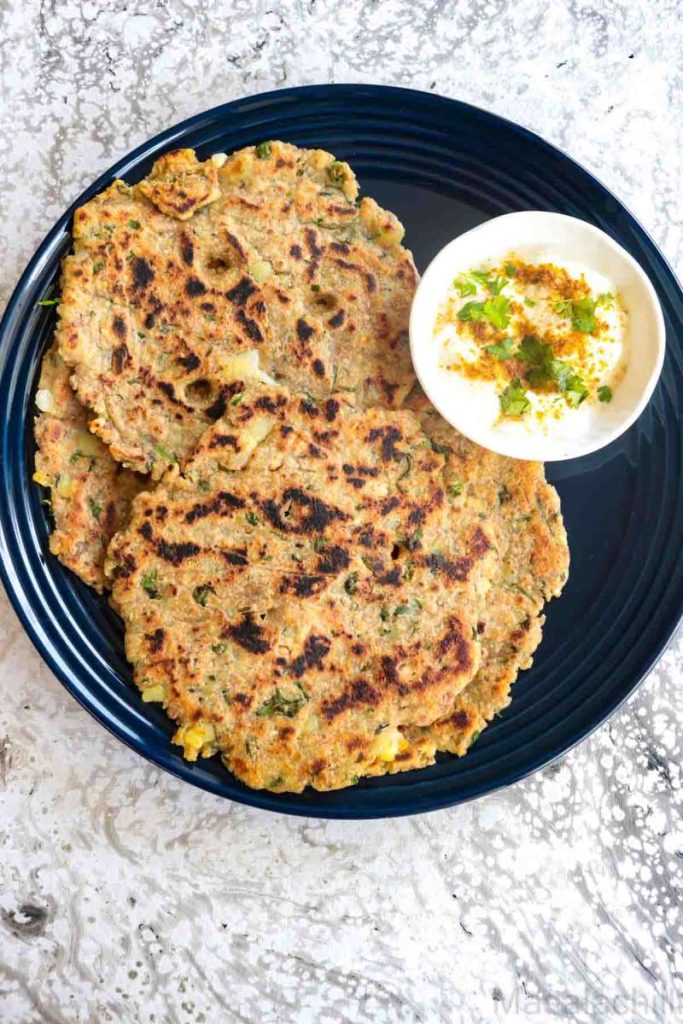 Rajgire Ka Thepla by Sanjeev Kapoor
2 cups of rajgira flour (plus extra for dusting)
Rock salt, to taste
1 inch piece of grated ginger
1 tsp of sesame seeds
2 green chillies, chopped
2 medium-sized potatoes, boiled and mashed
2 tbsp of yogurt
3 tbsp of ghee (plus extra for shallow frying)
2 tbsp of freshly chopped coriander leaves
Method:
Place ragjira atta in a mixing bowl. Add rock salt, ginger, sesame seeds, and green chillies to it.
Now, add mashed potatoes, yogurt, 3 tbsp of ghee, and finely chopped coriander leaves into the bowl. Gradually knead the mixture into a semi-soft dough, adding water as needed. Cover the dough and set it aside for approximately half an hour.
Next, divide the dough into ten to twelve equal portions. Roll each portion into round balls.
Dust them lightly with rajgira atta and flatten them into diskettes on a floured surface.
Heat the pan and cook theplas on both sides, using ghee as required for shallow frying.
Once cooked, serve the hot theplas with a side of yogurt!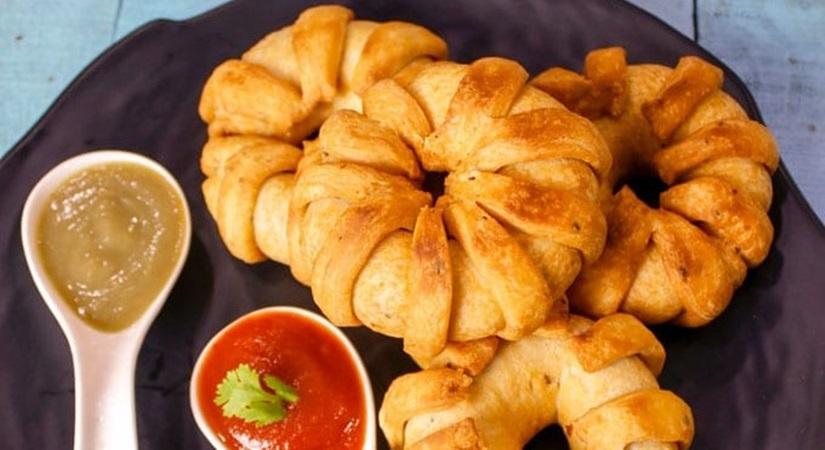 Ring Samosa by Sanjeev Kapoor
Ingredients:
¼ cup blanched green peas
3 medium potatoes, boiled and peeled
1 tbsp coriander seeds
1 tsp cumin seeds
2 tsps oil
1 tsp finely chopped ginger
1 chopped green chilli
Salt to taste
¼ tsp garam masala powder
1½ cups + 2 refined flour (maida)
2 tbsps ghee
¼ tsp carom seeds (ajwain)
Green chutney to serve
Method:
Dry roast coriander seeds and cumin seeds until they become fragrant. Then, coarsely grind them.
In a non-stick pan, heat some oil. Add ginger and green chili, and saute for a few seconds. Then, add green peas and mashed potatoes, and mix well.
Add the coarsely ground spice mixture, salt, and garam masala powder. Mash the mixture using a masher.
Transfer the mixture onto a plate, and allow it to cool to room temperature.
To prepare the dough, take 1½ cups of refined flour on a plate. Add ghee, carom seeds, salt, and half cup of water. Knead the mixture until it forms a stiff dough. Cover it with a damp muslin cloth and set it aside for 10-15 minutes.
For the slurry, take the remaining refined flour in a small bowl and add 3-4 tbsps of water. Mix until a smooth paste is formed.
Grease your work surface lightly with oil. Take a portion of the dough and roll it into a thin sheet. Trim the edges to shape it into a rectangle.
Place a portion of the stuffing on the top side of the rolled sheet. Make vertical slits at regular intervals on the bottom side. Starting from the top, roll it down and bring the two edges together to form a ring, sealing it with the slurry.
In a kadai, heat enough oil. Carefully slide in the rings a few at a time and deep-fry them on low heat until they turn golden brown and crisp. Drain them on absorbent paper.
Arrange the fried rings on a serving plate and serve them hot with green chutney!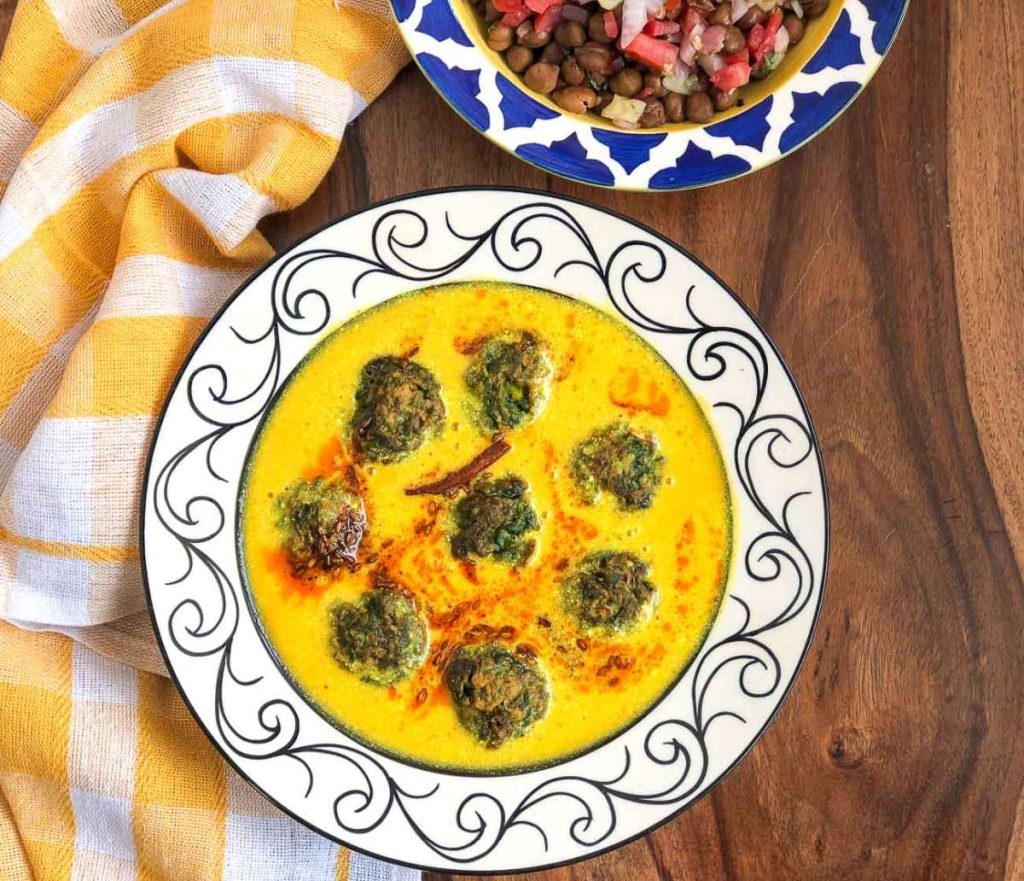 Palak Pakoda Kadhi by Sanjeev Kapoor
Ingredients:
2 cups shredded spinach leaves
Salt to taste
¼ tsp turmeric powder
1-2 green chillies, finely chopped
A pinch of garam masala powder
½ cup fine besan
Oil for deep frying
3 tbsps yogurt
2 tbsps fine besan
1½ tbsps pure ghee
2-3 cloves
1 inch cinnamon stick
A pinch of fenugreek seeds (methi dana)
6-8 curry leaves
2-3 green chillies, slit
1 dried red chilli, broken
A pinch of asafoetida (hing)
Salt to taste
A pinch of sugar
1 tbsp chopped fresh coriander leaves
Method:
Place spinach leaves in a bowl and season it with salt. Add turmeric powder, green chillies, garam masala powder, fine besan, and thoroughly mix. Gradually add ¼ cup of water and continue mixing until it forms a well-combined paste.
In a deep kadai, heat a sufficient amount of oil. Carefully spoon small portions of the spinach mixture into the hot oil and deep-fry them until they turn golden and become crisp. Once done, place them on absorbent paper to remove excess oil.
Make a smooth mixture adding yogurt with fine besan. Add 2 cups of water to this mixture and stir thoroughly.
In a deep non-stick pan, heat ghee. Add cloves and cinnamon stick and saute until they release their aroma. Add fenugreek seeds, curry leaves, green chillies, dried red chilli, and asafoetida to the pan. Saute these spices for a few seconds. Pour in the yogurt mixture and add ½ cup of water. Stir well.
Season the mixture with salt and allow it to come to a gentle boil over medium heat. Once it starts boiling, reduce the heat to low and let it simmer for an additional 5-6 minutes.
Add sugar to the mixture, stir, and cook for one more minute. Pour in ¼ cup of water, stir, and bring it to a boil. Lastly, add coriander leaves, mix well, and remove the pan from the heat.
To serve, arrange the palak pakode in a serving bowl, then generously pour the kadhi over them. Serve this delicious dish hot alongside steamed rice. Enjoy!
ALSO READ-Recipe: Chicken Popsicles
Advertisement