Advertisement

Romy Kuriakose, the Media Coordinator of IOC UK Kerala Chapter, spearheaded the festivities in Manchester…reports Asian Lite News
The victory of Chandy Oommen, the UDF candidate and son of Oommen Chandy, in the Puthupally Assembly by-elections, sparked exuberant celebrations organized by the Indian Overseas Congress (IOC) UK Chapter in Manchester, UK. This unique overseas celebration swiftly gained prominence, resonating not only in Manchester but also in the Indian state of Kerala.
The Kerala Chapter of the Indian Overseas Congress orchestrated the jubilant victory celebration in Manchester, drawing a spirited crowd of Congress workers and supporters. The celebratory activities included cake-cutting, sweets distribution, and enthusiastic slogans resonating at Cathedral Yard in Manchester.
Romy Kuriakose, the Media Coordinator of IOC UK Kerala Chapter, spearheaded the festivities in Manchester.
Remarkably, the celebration began within the first few hours of vote counting in Kerala. IOC workers in Manchester, armed with flags and sweets, gathered to revel in the victory. Such election victory celebrations are not customary in the UK, but this event organized by the IOC UK swiftly garnered attention, creating waves of excitement both in the UK and Kerala.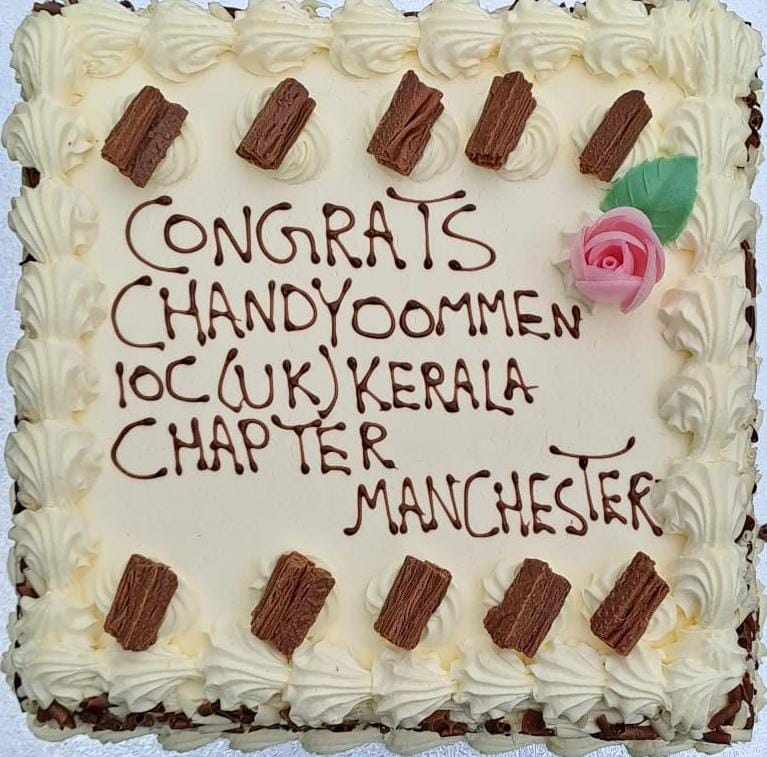 The Puthupally by-election victory of Chandy Oommen has not only invigorated Congress supporters in Manchester but has also sent ripples of enthusiasm across the state of Kerala. The event symbolizes the enduring connection and commitment of the Indian Overseas Congress and its supporters to the democratic process and political developments in India.