Advertisement

Pakistan's Punjab has become a fixture with Baloch and Sindhi nationalists who accuse the Pakistani Punjabi elite of subjugating other communities…writes Rahul Kumar
As an unstable Pakistan totters, plagued by governance failure, burgeoning economic crisis and spiralling violence, the Baloch rebels have challenged the country's powerful establishment in Punjab.

In a video released on Monday, Commander-in-Chief of the Baloch Liberation Army (BLA) Bashir Zaib has threatened the Pakistani army by attacking it in the heart of Pakistan – Punjab. In his trademark video, other videos also have the same landscape and gun-toting rebels behind him, Zaib says: "If our comrades can attack the Pakistani army camps and check posts, then they can also attack your markets and even the parliament in Punjab. But we do not want to take people's lives".

Threatening Pakistan directly, he says: "… however, that is what your army is doing in Balochistan – killing innocent children and women. We do not want to do what the Pakistani army is doing, but it is forcing us to take that direction". Zaib adds that the "Punjabi army of Pakistan is compelling us to go to the mountains though we don't want it…".

The video was released barely three days after the Counter Terrorism Department (CTD) of Pakistan abducted Baloch nationalist Mahal Baloch and harassed the women folk including young girls in her family. The abduction was done on the suspicion that Mahal is a possible suicide bomber who was planning to undertake a mission.

Mahal does belong to a family of Baloch nationalists where almost all the women and men have taken up the cause of an independent Balochistan.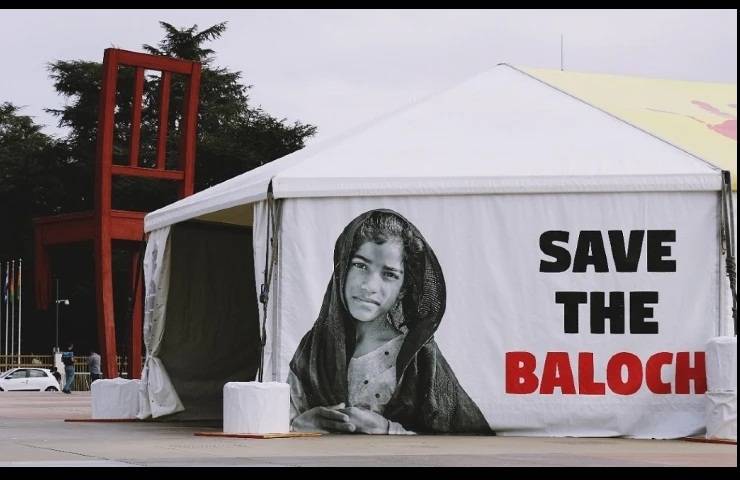 Some of the Baloch leaders have undermined the video by calling it an old video. However, the timing of the video coincides with the spike in violence – suicide bombers, gun and bomb attacks as well as the targeting of Pakistani army patrols through improvised explosive devices (IEDs) happening in some of the most important provinces of Pakistan – Punjab, Balochistan, Sindh and Khyber Pakhtunkhwa.

Geopolitical analyst Mark Kinra says, "the BLA leader's recent threat should be looked at through a wider lens – one, that Pakistan's security apparatus is getting weaker. The more the Tehreek-i-Taliban Pakistan (TTP) gets aggressive, BLA and other Baloch fighters also get a boost. Second, under international law civilians, mainly women and children, are not supposed to be targeted in war".

Kinra adds that Mahal Baloch's detention deeply affects the Baloch society which sees it as unfair harassment of Baloch women.

"The establishment has targeted Baloch underground workers and their families in the past as well. In Jan 2022, the BNA had claimed responsibility for Lahore's Anarkali Market blast but the Mahal Baloch abduction by the security forces will give Baloch organizations fresh impetus", says Kinra, adding that they may go to the extent of attacking civilians in Punjab.

Exactly one year back the BLA had stunned the world with its daring attack on the Pakistani Frontier Corps (FC) headquarters in Panjgur, Balochistan. It not only managed to storm the FC camp but also held it for nearly 40 hours in the face of a multi-force Pakistani military assault.

Pakistan's Punjab has become a fixture with Baloch and Sindhi nationalists who accuse the Pakistani Punjabi elite of subjugating other communities in multi-ethnic Pakistan and unleashing discrimination and violence against them.

(The content is being carried under an arrangement with indianarrative.com)