Advertisement

Much of what Prime Minister Trudeau has been doing is indefensible, but it needs never to be forgotten that one Trudeau, even a Prime Minister Trudeau, does not make Canada, writes Prof. Madhav Das Nalapat
Not just Canada's largest television network, CBC, but several newspapers in that country are dependent on direct and camouflaged government handouts for their existence. The Liberal Party headed by Prime Minister Justin Trudeau has been exceptionally generous in the giving of such subsidies, so it comes as no surprise that he has overall got adoring media coverage. Those familiar with his entourage say that a thorough scan of the daily press clippings involving him is an important part of his daily workload. Should there be criticism, the effort by him is not to have a relook at the policies that are being attacked.
Rather, it is to discover ways of either reaching out to the reporters and editors responsible for unflattering content and persuade them to change their minds, or to camouflage unpopular policies in such a way that they, albeit deceptively, appear more attractive. "I, me, myself" is central to the thought processes of the Prime Minister of Canada, and much of his time gets expended on ways of drawing favourable attention to his activities. Some of his advisors, and perhaps Trudeau himself, seem to have a somewhat odd view of what appeals to a particular audience, as witness the (then united) Trudeau family step off their airplane on his arrival in India in 2018.
They were dressed in what to many onlookers was more suitable for a fancy dress ball than to a visit by the Head of Government in a major country to the capital of the world's largest democracy. His invitation in a get-together to individuals who were connected with violent actions designed to Balkanise India further than was the case in 1947 was not helpful in improving his image as a troublemaker. Trudeau being Trudeau, he refused to acknowledge any impropriety in such actions, and merely doubled down on them thereafter.
The final red line before the patience of the Government of India (GoI) was completely exhausted was his statement to the Canadian parliament that there was "credible evidence" that a gangster connected to drug lords and to terror sympathisers had been killed on the orders of the GoI.
Credible to whom, it may be asked, for what little has been presented as "evidence" for such a sensational claim represents nothing more than conspiracy theories laced with AI simulated data points. The death of H.S. Nijjar has been mourned by Trudeau in a way that was absent in the killing of a Chinese and a Baloch dissident earlier, not to mention numerous casualties in the gang wars that are common in a country where the narcotics trade is increasing at an alarming rate.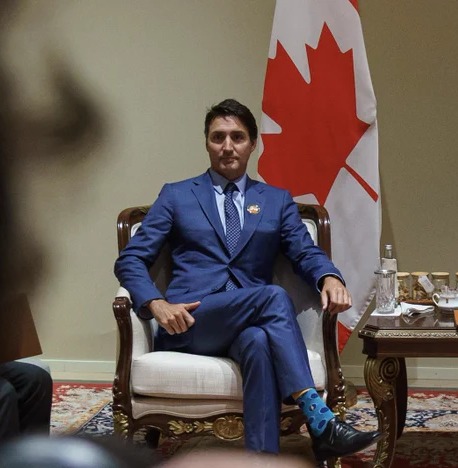 Whether it be the narcotics trade, gangland killings, the spreading network of factotums of the State Security Bureau in Beijing, or increasing societal maladjustment caused by the government's indulgent approach towards children suddenly deciding that it would be exciting to try and become another gender, Canada under Justin Trudeau is not the country it was just a few years ago.
What happened to India is typical of the whimsicality that now permeates politics and policy in Ottawa. Rather than commiserate with a country that *is witnessing Canada-based efforts to revive in Punjab the violence that was infused there in the 1980s courtesy of external troublemakers, Trudeau confused the victim for the perpetrator. He thereby sought to divert attention from the real consequences of his style of governance to an imaginary threat from another country. Trudeau did not blame the country whose State Security operatives go about their tasks with impunity in Canada, but the victim of many of their exertions, India.
Much of what Prime Minister Trudeau has been doing is indefensible, but it needs never to be forgotten that one Trudeau, even a Prime Minister Trudeau, does not make Canada. The effort of the countries that are foes of India and which appear to presently have a decisive voice in the policy portals of Ottawa is to decouple Canada from India. Instead, ties between the two sides need to be reinforced.
There are voices in Canada that are correctly calling for an examination into the way in which the asylum system has been misused to resettle individuals in that country from different corners of the world who are temperamentally alien to moderation and honest work. Voices of dissent against Trudeau's woke policies need to be supported, not just in the Indian interest, but that of Canada as well. From across India, there are many with the skill and temperament required to become good citizens in Canada, and such a flow needs to increase rather than diminish.
In the US, the impact of the Indian diaspora is visible, especially in politics. Kamala Harris, Nikki Haley, Raja Krishnamurthy and Vivek Ramaswamy are just four of the Indian Americans who are making a mark in the hugely competitive political culture of the world's most powerful democracy. In Canada, moderates of Indian origin whether Sikh, Hindu, Muslim or Christian need to replace within the councils of political power the radicals who have entered such ranks through gerrymandering.
Houses of worship need to be taken away from the control of those who advocate and who practise violence. Before 9/11, there were several houses of worship in the US where preachers from faraway countries were brought in to give fiery speeches attacking the very country in which they were giving sermons in. To a considerable extent, that situation has altered, and such radicals are no longer welcome in the US. However, they remain frequent visitors to Canada, and this needs to stop before that country too endures a terror attack on the scale of a US 9/11 or an Indian 26/11.
The Canadian people need to be told the backgrounds and activities of terror sympathisers who are being protected by a coalition partner of the Liberal Party in Ottawa. The good news is that as a consequence of Trudeau's gaffe, for the first time numerous Canadians are beginning to understand the intentions and actions of the radicals in their midst, some holding high office. They have begun questioning Trudeau about his soft corner for them. Throughout much of the 1990s, President Bill Clinton coddled Wahhabis and the CCP.
In the process, he in effect nourished groups that were linked to Al Qaeda and was responsible for the hollowing out of US manufacturing that was transferred to the PRC. Justin Trudeau is walking along the same path as Clinton did. Before greater tragedy strikes Canadian workers and other citizens, the risks that Trudeau is taking with Canada's future need to be exposed. Not just the US but Canada as well is a natural ally of India. In the din of the present controversy, that truth must never be lost sight of.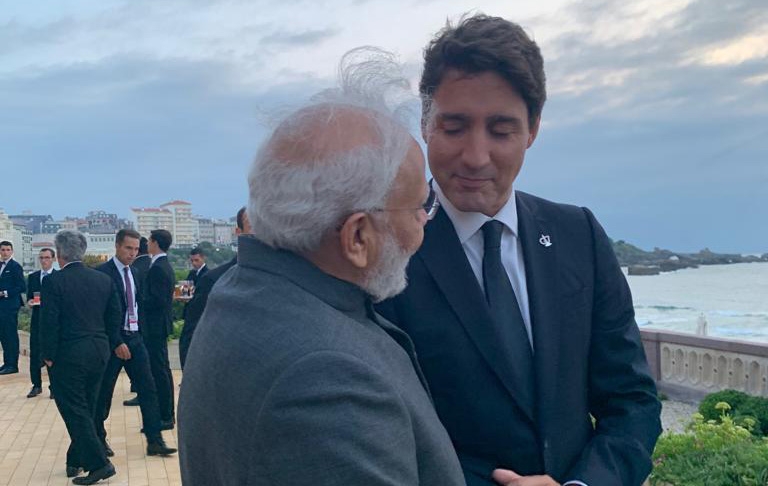 Natural Ally
Boswell writes of Samuel Johnson that the raconteur defined a patron as an individual who idly watched a man at risk of drowning in a lake, only bounding forward to offer him assistance when the swimmer had reached the shore safely. A genuine patron, a true friend, will help the most when the need is most, not step forward when the need has been extinguished.
Prime Minister Jawaharlal Nehru, a man of letters, is remembered in history for the concept of non-alignment, or not aligning with any other power but going it alone. During the 1950s, the PLA was far weaker than it subsequently became, and had efforts been made to enlist the help of countries that were at the time hostile to China, it may have been possible to get together a coalition that could have joined forces with India to drive the PLA from Aksai Chin.
Indeed, there was a compelling case for capturing by force during 1947-48 that third of Kashmir that has since 1947 been forcibly occupied by Pakistan, but that too was not attempted.
Indeed, until the 1970s, the military was looked upon with inner suspicion and spasms of outward derision by the political leadership of the country at Delhi. It was inexplicable that Defence Minister Vengalil Kumaran Krishna Menon ridiculed the Chief of Staff of the Indian Army in public, when he ought to have been giving words of encouragement. Although possessing a brilliant intellect, Menon joined his mentor Nehru in acting as though the real world was the imaginary world that they wished it to be.
Small wonder that countries, several of which had been freed of the colonial yoke because of the freedom struggle of the people of India, steadfastly adopted a policy of non-alignment when it came to the land grab by Pakistan and China at the expense of an already truncated India. It was only after Narendra Modi became Prime Minister of India in 2014 that the foundation agreements underpinning US-India security cooperation were signed, and the Quad was formed with India joining Australia, Japan and the US in a partnership designed to ensure a free, open and inclusive Indo-Pacific.
Canada is as much a natural partner of India as Australia is, the difference being that Ottawa does not understand this truth in the way that Canberra does. Or Tokyo and Washington, for that matter. Many scars and scabs have been left behind in the minds of several Indians from the time of Cold War 1.0, when India was seen by many in the US as being a satellite of the USSR. As a consequence, anti-US sentiment forms a strong sediment even in the strategic discourse of several policymakers.
Hence, verbal sallies from Blinken and Sullivan that are transparently designed to assuage the wounded feelings of Justin Trudeau at the lack of support he has been getting from within NATO in his tirade against India, have resulted in an eruption of anti-US sentiment in India. Such a sentiment is not supported by either facts or by national interest. The US and India need each other, and the unmerited rant by Trudeau in the Canadian parliament against India is not going to diminish the need for Delhi and Washington to work together in ensuring that a new hegemon does not threaten global security.
It is a matter of astonishment that an individual who has been chosen as the Prime Minister of one of the countries friendliest to India should be so hostile to our country, but it would be unfair, possibly inaccurate, to portray such a dislike as being motivated by a compulsion to protect the interests of China, a country where the leadership is visibly unhappy at the growing closeness between the West and India, or between India and the Global South. What is more likely is that Justin Trudeau does not have an instinct for the big picture, but concentrates his attention and his activity on the moods and perceived requirements of the day, whatever these may be, and however harmful they may be to the overall interests of Canada and its people.
In the din of Trudeau's false charge against India, what ought not to be lost sight of is the reality of Canada being a natural partner of India, and the need to ensure that when the country gets a Prime Minister of a higher calibre than Trudeau, Ottawa and Delhi become as close as Washington and Delhi have become since Prime Minister Modi took over as the Pradhan Sevak of Bharat, i.e., India.
Advertisement