Advertisement

During the interaction, ongoing bilateral defence cooperation activities were reviewed, and both sides expressed satisfaction with the increasing engagements…reports Asian Lite news
India and the Maldives have agreed to increase the complexity of existing bilateral defence exercises.
This was among a host of issues discussed during the 4th Defence Cooperation Dialogue (DCD) held in Male on Sunday (March 19, 2023).
The dialogue was co-chaired by visiting Indian Defence Secretary Giridhar Aramane and his Maldivian counterpart, Chief of Defence Force, Maldives National Defence Forces Major General Abdulla Shamaal.
During the interaction, ongoing bilateral defence cooperation activities were reviewed, and both sides expressed satisfaction with the increasing engagements. The talks covered the existing bilateral exercises, with both countries agreeing to increase the complexity of these drills, India's Ministry of Defence said.
During his visit to the Maldives, Aramane also called on Defence Minister Mariya Ahmed Didi and Foreign Minister Abdulla Shahid. Speaking after the DCD, Defence Secretary Aramane thanked Major General Shamaal and his delegation for a fruitful dialogue and stated that India looks forward to continued engagement based on the common understanding reached by the 4th DCD.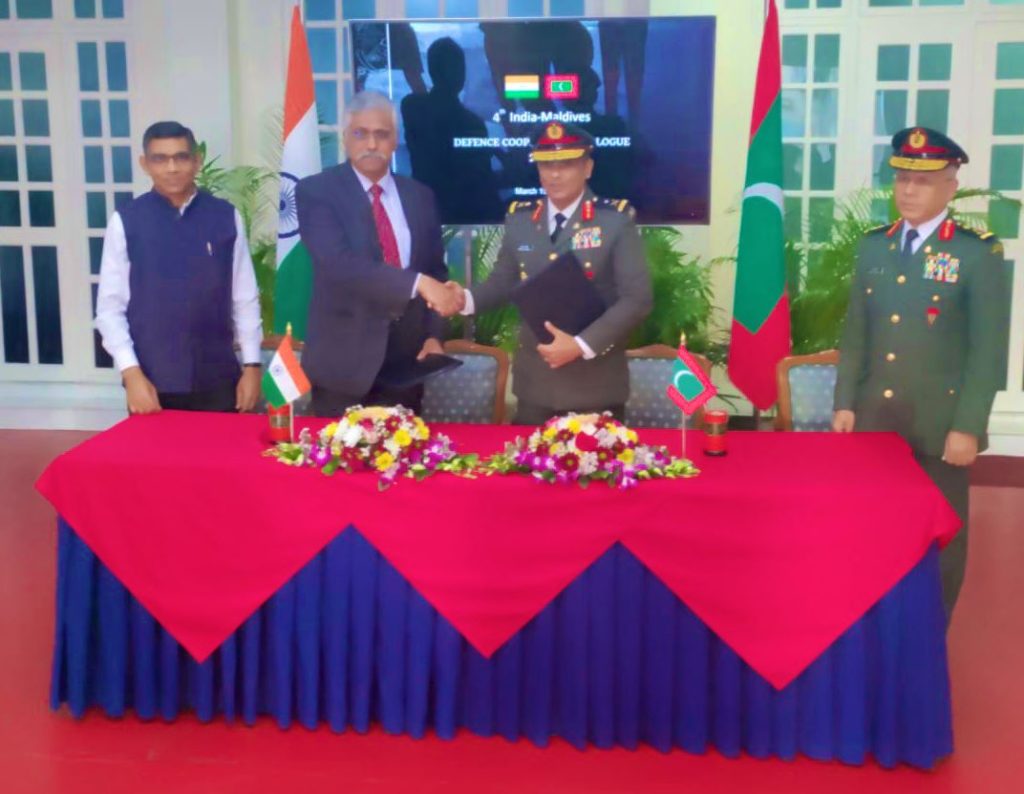 The DCD is the most institutionalized form of interaction between the two nations. The attention placed on the negotiations by the two countries underlines their significance in determining the future direction of ties between the two Military Forces, the Ministry of Defence noted.
"The Armed Forces of India & the Maldives continue to seek bilateral cooperation in multiple fields and the increased engagements are a positive sign for the future of bilateral relations," the ministry added.
It may be recalled that India and the Maldives had discussed new initiatives and stronger engagement between their armed forces at the 6th Joint Staff Talks (JST) held in New Delhi on December 20, 2023.
Discussions at the JST focused on the ongoing and new initiatives under the ambit of existing bilateral defence cooperation mechanism of all the three services and further strengthening the engagements.
It is worth noting that the Maldives is a founding member of the Colombo Security Conclave, along with India and Sri Lanka, in 2011. The Colombo Security Conclave was founded as a trilateral security cooperation framework for the Indian Ocean Region.
Mauritius became the forum's fourth member during the 5th Colombo Security Conclave Meeting in Male, Maldives in March 2022. Representatives from Seychelles and Bangladesh had also attended the meet as observers. (India News Network)