Advertisement

Jammu and Kashmir's Firdous Ahmad Khan and Bashir Ahmad Ahanger have been selected for Fire Service Medal for Gallantry awards…reports Asian Lite News
This year, as a part of the Republic Day celebrations, the biggest drone show in India, comprising of 3,500 indigenous drones, will light up the evening sky over the Raisina Hills, weaving myriad forms of national figures and events through smooth synchronisation.
Defence Secretary Giridhar Aramane on Wednesday said that, it depicts the success of start-up ecosystem, technological prowess of the country's youth and pave the way for future path-breaking trends.
A total of 45,000 people will be able to watch the march past at the Kartavya path.
However, the percentage of common people will be increased this year as around 32,000 tickets have been reserved for the common public. Earlier there was 1 lakh seating capacity, but most of the passes for Republic Day used to be given to the VIPs and to the officials.
Contingent of IAF will be led by Sqn Ldr Sindhu Reddy
Marching contingent of IAF for the Republic Day parade will be led by a woman officer of the Indian Air Force, Sqn Ldr Sindhu Reddy.
Comprising four officers and 144 air warriors marching in a box formation, the contingent will be led by Sqn Ldr Reddy, along with three supernumerary officers — Flt Lt Ayush Agarwal, Flt Lt Tanuj Mailk and Flt Lt Pradhan Nikhil.
According to the Indian Air Force on Wednesday, the fly-past will comprise 45 IAF aircraft, including 9 Rafal Jets and four helicopters from the IA. The IL 38 Jet of the Indian Air Force will take part for the last time in the parade. The fly past would comprise formations of Dhwaj, Rudra, Baaz, Tiranga Garuda Bheem Amrit Thriul and Vijay.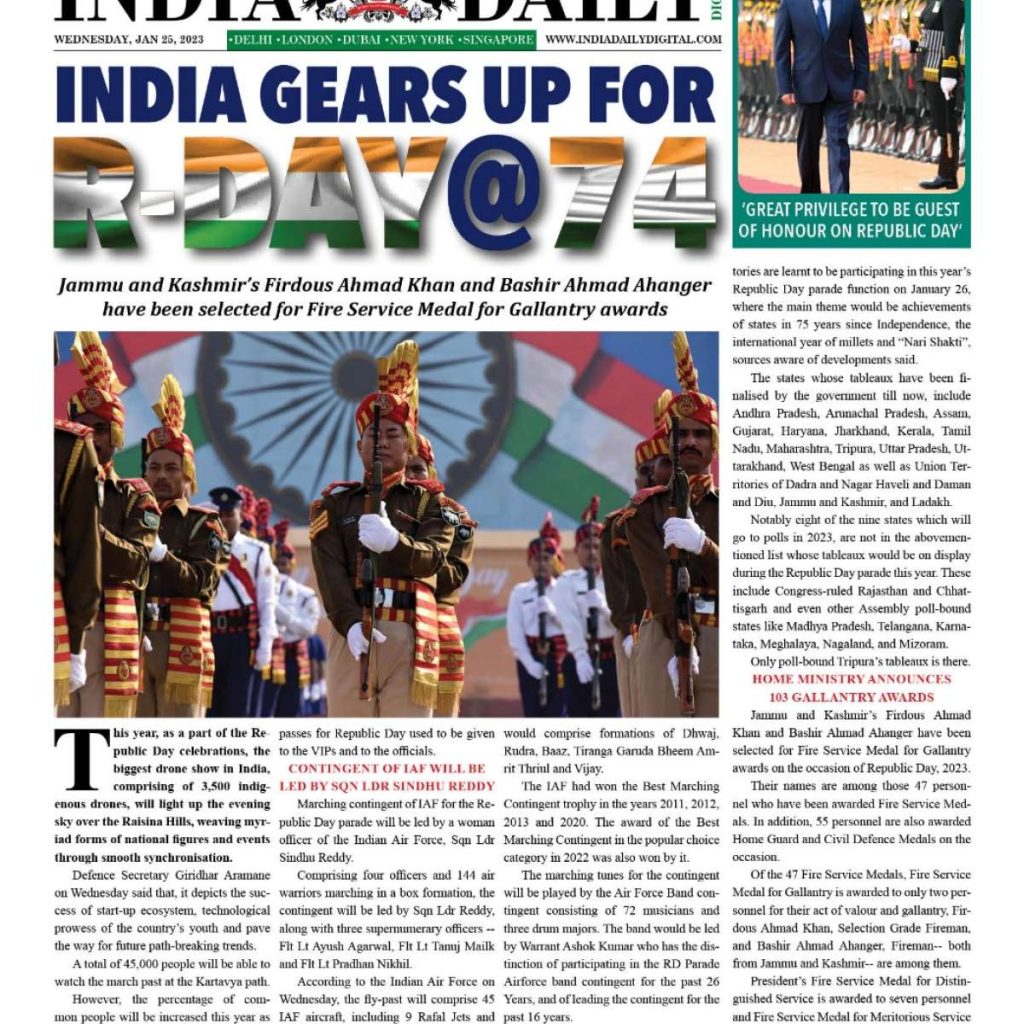 The IAF had won the Best Marching Contingent trophy in the years 2011, 2012, 2013 and 2020. The award of the Best Marching Contingent in the popular choice category in 2022 was also won by it.
The marching tunes for the contingent will be played by the Air Force Band contingent consisting of 72 musicians and three drum majors. The band would be led by Warrant Ashok Kumar who has the distinction of participating in the RD Parade Airforce band contingent for the past 26 Years, and of leading the contingent for the past 16 years.
16 states, Union Terrotries tableaux
Tableaux of 16 states and Union Territories are learnt to be participating in this year's Republic Day parade function on January 26, where the main theme would be achievements of states in 75 years since Independence, the international year of millets and "Nari Shakti", sources aware of developments said.
The states whose tableaux have been finalised by the government till now, include Andhra Pradesh, Arunachal Pradesh, Assam, Gujarat, Haryana, Jharkhand, Kerala, Tamil Nadu, Maharashtra, Tripura, Uttar Pradesh, Uttarakhand, West Bengal as well as Union Territories of Dadra and Nagar Haveli and Daman and Diu, Jammu and Kashmir, and Ladakh.
Notably eight of the nine states which will go to polls in 2023, are not in the abovementioned list whose tableaux would be on display during the Republic Day parade this year. These include Congress-ruled Rajasthan and Chhattisgarh and even other Assembly poll-bound states like Madhya Pradesh, Telangana, Karnataka, Meghalaya, Nagaland, and Mizoram.
Only poll-bound Tripura's tableaux is there.
Home ministry announces 103 Gallantry awards
Jammu and Kashmir's Firdous Ahmad Khan and Bashir Ahmad Ahanger have been selected for Fire Service Medal for Gallantry awards on the occasion of Republic Day, 2023.
Their names are among those 47 personnel who have been awarded Fire Service Medals. In addition, 55 personnel are also awarded Home Guard and Civil Defence Medals on the occasion.
Of the 47 Fire Service Medals, Fire Service Medal for Gallantry is awarded to only two personnel for their act of valour and gallantry, Firdous Ahmad Khan, Selection Grade Fireman, and Bashir Ahmad Ahanger, Fireman– both from Jammu and Kashmir– are among them.
President's Fire Service Medal for Distinguished Service is awarded to seven personnel and Fire Service Medal for Meritorious Service is awarded to 38 personnel for their respective distinguished and meritorious records of service.
Of the 55 personnel awarded Home Guard and Civil Defence Medals, Home Guards and Civil Defence Medal for Gallantry is awarded to one person for his act of valour and gallantry.
Prakash Singh Negi, Home Guard Volunteer, from Chandigarh has been awarded Home Guards and Civil Defence Medal for Gallantry.
President's Home Guards and Civil Defence Medal for Distinguished Service and Home Guards and Civil Defence Medal for Meritorious Service are awarded to nine personnel and 45 personnel respectively.
President's Medal for Gallantry and President's Medal for Distinguished Services as well as Gallantry Medal and Meritorious Services Medals are awarded to the personnel of Fire Services, Civil Defence and Home Guards on Republic Day and Independence Day each year.
ALSO READ-Rangoli and Lamps adorn Republic Day celebrations in Newham