Advertisement

Will former Pakistan Prime Minister Imran Khan go to jail after Fawad Chaudhry's dramatic arrest? – writes Rana Banerji
A clear message has been conveyed to former Prime Minister Imran Khan with the dramatic arrest of Pakistan Tehreek-e- Insaf (PTI)'s former Information Minister, Fawad Chaudhry earlier this week. The arrest was made from outside his Lahore house in the early hours of Wednesday, January 25 by a posse from Kohsar Police Station, Islamabad represented a sharp rap on the knuckles of former Prime Minister, Imran Khan.
It signifies that with the PTI- Pakistan Muslim League (Q) coalition government of former Chief Minister Pervez Elahi dissolved in Punjab, and the Caretaker regime under Syed Mohsin Naqvi firmly in the saddle, outspoken PTI leaders would no longer have leeway to keep lambasting the ruling Pakistan Democratic Movement (PDM) government at the Centre or senior government officials discharging their official duties.
52-year-old Fawad Chaudhry hails from a prominent political family from Dina, Jhelum district with old moorings in the Pakistan Muslim League. His uncle, Chaudhry Iftikhar Hussain served as Chief Justice of the Lahore High Court from 2002 to 2007. Himself a lawyer, Fawad had developed typical political ambitions during a career which saw him peregrinating from various ruling dispensations in quest of perks of office.
Starting from contesting the Member Provincial Assembly seat from Dina (MP-25) as an independent candidate, he joined the All-Pakistan Muslim League floated by sycophants of former President Gen (retd) Pervez Musharraf in 2011. He then moved to the People's Party of Pakistan in January, 2012 and was inducted as Special Assistant to Prime Minister, Yousaf Raza Gilani for Information. In 2016, he contested the National Assembly NA-63 seat from Jhelum on a Pakistan Muslim League (Quaid-e Azam) party ticket but lost.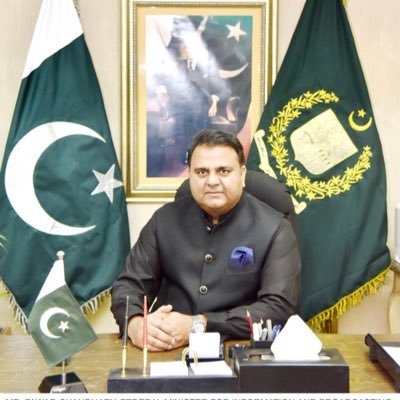 In 2018, he joined the PTI and won from both the NA -67 Jhelum National Assembly and the Punjab Provincial Assembly seat PP-27 Jhelum, becoming in the process an articulate loyalist of emerging Prime Ministerial aspirant, Imran Khan and even an aspirant for the post of CM Punjab.
Possessing the gift of the gab, he supplicated Imran in earnest, holding the prestigious Information Ministry at the Centre briefly (Aug 2018) before being shafted, for a temporary gaffe, to the less important Ministry of Science and Technology (April, 2019). He made a comeback, however, to the Information Ministry (April, 2021). Especially after Imran' ouster from power in April, 2022, Fawad Chaudhry came to the forefront echoing his master's vituperations against Federal Government Ministers, officials and even Army Generals.
In recent times, as cases for violation of rules in the Toshakhana (false declaration/concealment of assets) and illegal foreign funding were taken up in the Election Commission of Pakistan (ECP), making Imran's disqualification and possible arrest imminent, both Imran and Fawad Chaudhry had become very offensive in their criticism of the Chief Election Commissioner (CEC) of Pakistan, Sikandar Sultan Raja and his team of officials. Raja is a former bureaucrat appointed, ironically enough, by Imran Khan himself when he was Prime Minister.
According to the FIR filed by a senior ECP office Chaudhry called the ECP a 'munshi' and threatened the CEC, ECP members and their families that they will pay back in kind (read 'violence') if anything 'unjust' happened to the PTI.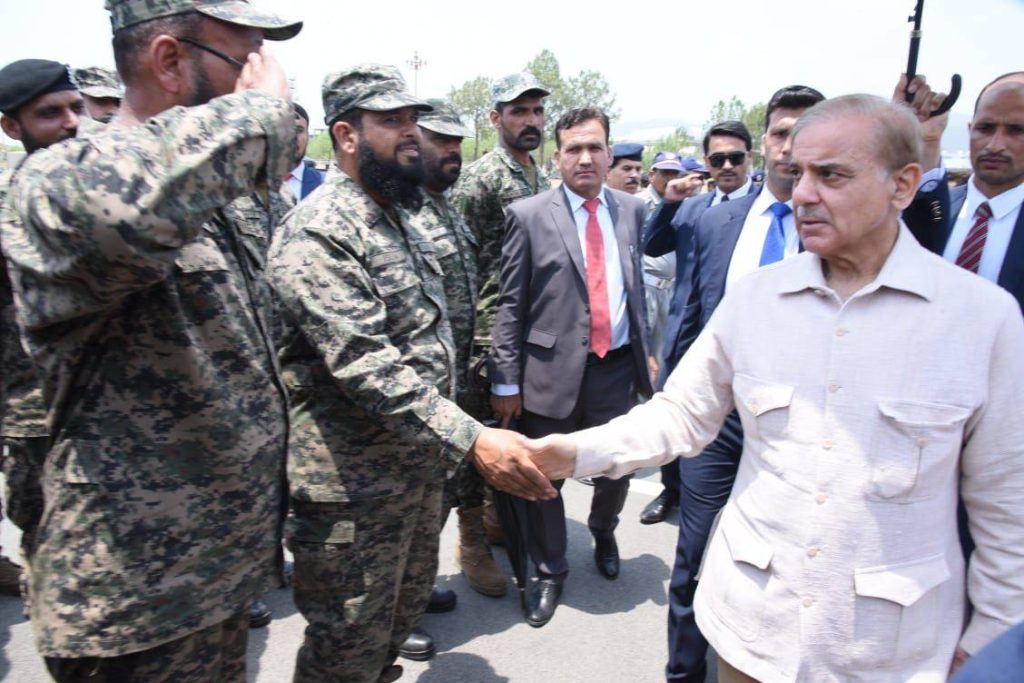 The charges in the FIR against Fawad Chaudhry include Section 124-A (sedition), 153-A (promoting enmity between different groups, etc.), 505 (statements conducive to public mischief) and 506 (punishment for criminal intimidation).
Chaudhry's arrest on Jan 25 morning was likened, by his wife, Hiba to a 'kidnapping'.
Another PTI politician, Farrukh Habib tried to jump before the police cars whisking him away.
The Islamabad Police took transit remand from a Lahore judicial magistrate before taking him away. Despite this, PTI supporters moved a habeas corpus petition before the Court of Justice Tariq Saleem of the Lahore High Court (LHC).
It may be noted in this context, that recent judgements of the LHC were perceived to be one-sided and partial to the PTI.
Predictably, Justice Saleem demanded immediate return and production before him of Fawad Chaudhry.
He summoned the newly appointed Inspector General of Police, Punjab, Usman Anwar as well as the IGP, Islamabad to appear before him in person by 6 p.m. the same evening.
However, after a quick medical examination and production of Fawad Chaudhry in the court of Islamabad judicial magistrate, Naveed Khan on January 25 afternoon, the case petered out.
IGP, Punjab, Dr Anwar appeared before Justice Saleem, explaining that the Punjab Police no longer had jurisdiction.
Thereafter, the habeas corpus petition was dismissed.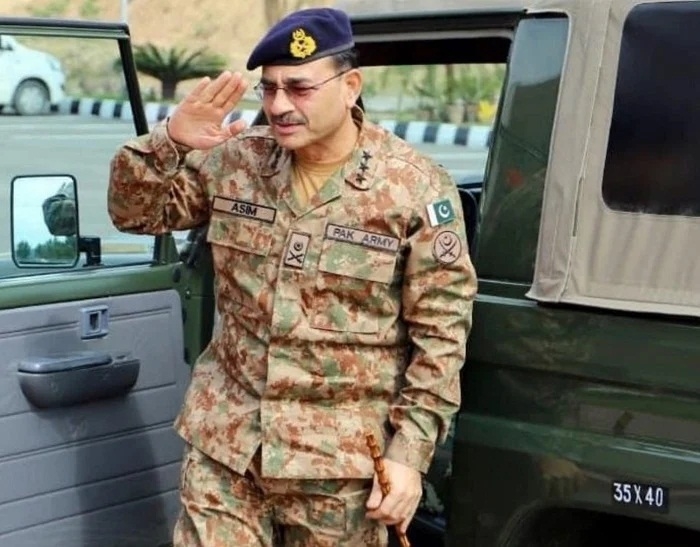 After an initial 2-day police remand, Fawad Chaudhry has been given 12-days' judicial remand by Judge Raja Waqas Ahmed and lodged in Adiala Jail, Rawalpindi.
After Chaudhry's arrest, Imran Khan held a press conference alleging this was an attempt to silence him and scuttle his election agenda.
He also asked President Arif Alvi to help. The latter came down to Lahore, this time staying only at the Governor's house but apparently explained his limitations in this regard.
Fawad Chaudhry resorted to bravado during his arrest, claiming to have been victimized like Nelson Mandela, but later toned down his defiance by stating during court deposition that as party spokesperson, he was opining what was the party's policy, not his personal opinion.
Media personnel in Pakistan criticised his arrest as an attempt to muzzle freedom of opinion.
The Supreme Court Bar Association also took up cudgels on his behalf.
However, protests on the streets of Lahore and Islamabad, called for by Imran Khan's supporters fizzled out.
The perception predominantly prevails in Pakistani public opinion now that Chaudhry is paying for the wild oats he sowed in his recent attacks on Army Generals by name and he is likely to cool his heels in custody for a while.
The message has clearly been conveyed to Imran Khan by the new military establishment that he better behave in a more civil manner, eschew unparliamentary language and curtail frequent press appearances to sustain his narrative of unfair ouster and conspiracy, which has started to wear thin.
(Rana Banerji was Special Secretary (Retd.) in the Cabinet Secretariat. Views expressed are personal and exclusive to India Narrative)
(The content is being carried under an arrangement with indianarrative.com)
ALSO READ: Fawad Chaudhry alleges Gen Bajwa involved in ousting of Imran Khan