Advertisement

Over the last nine years, India has taken several far-reaching initiatives both domestically and globally that have significantly enhanced its clout and prestige in the world, writes Ashok Sajjanhar
Prime Minister Narendra Modi will be completing nine years of his tenure next month. He will be delivering the 100th edition of his unique monthly Radio Address to the Nation ''Mann ki Baat'' later this month. It is a suitable juncture to take stock of developments and achievements that the country has registered over this period.
While speaking of foreign policy, it needs to be kept in mind that the policy that a country pursues in the international arena is to a considerable extent determined by developments taking place elsewhere in the world. Not even the strongest powers can have results or outcomes that they desire because of global events over which they have little control. In the recent past we have witnessed how the US, the single most powerful country in the world, had to suffer an ignominious exit from Afghanistan after having been in that country for 20 years to establish peace and security in the country. Also Russia, the second most powerful military in the world has been stopped in its tracks by a much smaller power and country like Ukraine by virtue of the sheer grit and determination of the latter's leadership, military and people. China, another major power was forced to withdraw in humiliation when it attacked Vietnam, a small and poor country in comparison, to teach it a lesson in February, 1979. It has also been facing the pushback of de-coupling by major powers because of its hostile attitude during the Covid pandemic.
Secondly, foreign policy of a country is a mirror reflection of the country's domestic economic strength, unity and vitality. It needs no repetition that the reflection can never be brighter than the original. So if a country wishes to command influence in the world, it is imperative for it to have a robust and a strong economy, ensure domestic stability and possess significant military prowess.
Over the last nine years, India has taken several far-reaching initiatives both domestically and globally that have significantly enhanced its clout and prestige in the world. This has been possible due to the bold, clear-sighted and visionary policies pursued by PM Modi's government, both at home as well as internationally.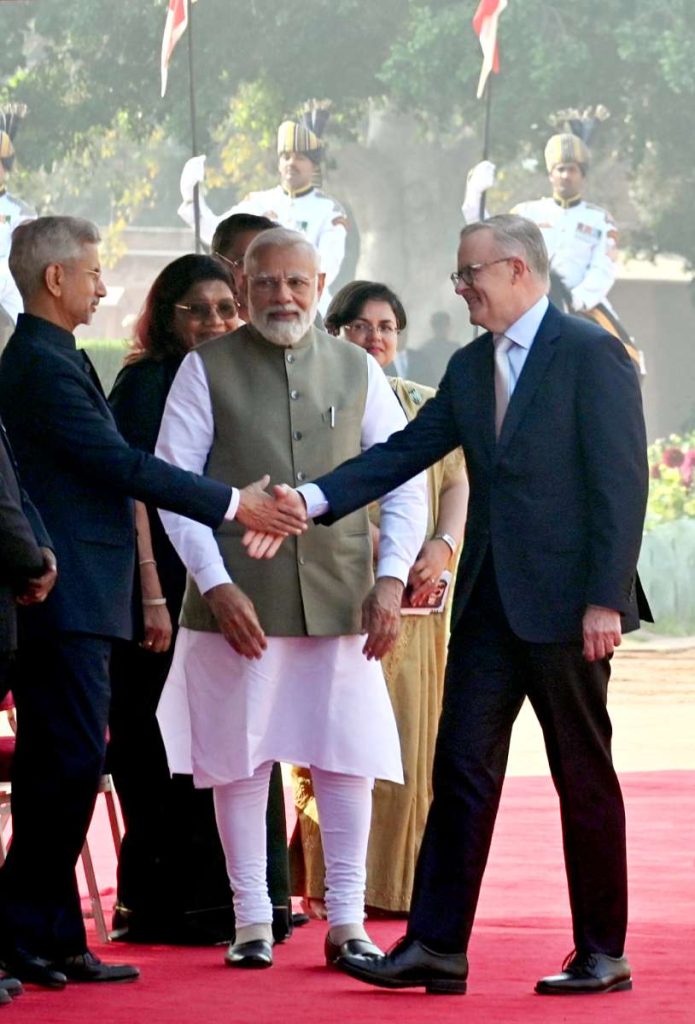 Domestic Economic Reforms
On the domestic economic front some of the outstanding policies include implementation of the Goods and Services Tax, Production Linked Incentive Scheme, Insolvency and Bankruptcy Code, Jan Dhan Yojana (Financial Inclusion), Ujjwala yojana (Supply of cooking gas and stoves), Direct Bank Transfer, launch of Aadhar (Digital Identity) scheme, Unified Payment Interface digital payment system, and many others. As a result of several such initiatives, India's economy jumped from the 10th position to the 5th position from 2014 to 2022, while it had improved marginally from the 11th to 10th position over the previous 10-year period. According to several eminent economists, India which is the fastest growing major economy today, will become the 3rd largest economy after displacing Germany and Japan by the end of this decade or beginning of the next decade. This rapid rise of India's economy as well as several far-reaching reforms that have been initiated even during the pandemic and the Ukraine conflict have significantly enhanced India's image and respect in the global community.
Relations with USA
On the foreign policy front, the dynamism and vigor in India's relations with the US over the last 9 years has transformed the US-India partnership into India's most consequential relationship. PM Modi has worked with three US Presidents during this period. He has enjoyed warm and friendly relations with all of them. During this period the relationship has touched new heights and continues to expand rapidly. Today the US and India enjoy a comprehensive, global strategic partnership with cooperation encompassing more than 60 themes including education, energy, renewable energy, agriculture, cyber-security, technology, infrastructure, health, critical and emergent technologies, and many more. Both the countries are active members of the Quad. India conducts the highest number of military exercises with the majiUSA. Both countries are assiduously working together for a rule-based international order, a free, open and inclusive Indo-Pacific with freedom of navigation and overflights. President Joe Biden, since his assumption of office in 2021 has provided a huge impetus to the Quad which has emerged as a force for regional and global good. During their interaction on the sidelines of the Quad Summit in Tokyo in May, 2022, PM Modi termed the bilateral relations as a ''partnership of trust'' and Biden said that he was ''committed to making the U.S.-India partnership among the closest we have on Earth.'' President Biden is scheduled to visit India for the G20 Summit in September, 2023. The increasingly assertive and expansionist actions of China in recent years have brought India and USA closer together in an attempt to balance China so that it emerges as a rule-abiding global player.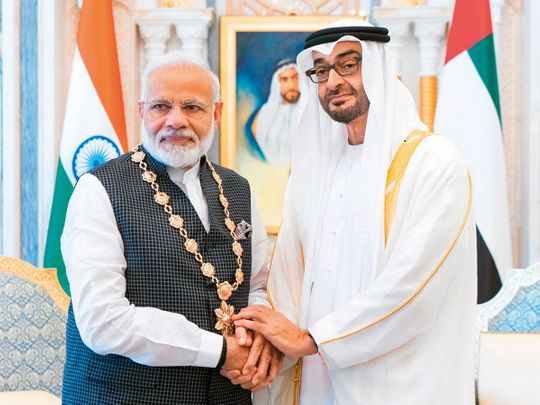 Relations with West Asia/Middle East
One of the most significant achievements of Modi's tenure is the significant energy imparted and diversification of India's relations with West Asia/Middle East. Today, the Gulf is an integral part of India's 'extended neighbourhood', both by way of geographical proximity and as an area of expanded interests and growing Indian influence. Historic maritime and cultural links have developed into strong relationships of 'energy, expatriates and economy'. India is dependent on the six Gulf Cooperation Council (GCC) states for 42 per cent of its overall oil imports. Qatar is also India's dominant supplier of Liquefied Natural Gas (LNG). Any disruption in energy imports from the Gulf will have serious implications for India's economic growth. Indian nationals make up the Gulf states' largest expatriate community, with an estimated 8 million plus Indian nationals living and working in the region. The safety and security of these Indian nationals is a key priority for the Modi government. The GCC is also India's largest regional-bloc trading partner. The figure is higher than both India–ASEAN trade and India–EU trade. The GCC has also been providing over 50% of India's total annual inward remittances. India recently signed an ambitious FTA with the UAE. UAE was the first Gulf Country PM Modi visited in August 2015, making it the first visit by an Indian prime minister to the UAE in 34 years. The two sides set a target of $75 billion for UAE investments into India's infrastructure development, spanning ports, airports, highways and construction, as well as petrochemical projects. Relations in traditional areas have been supplemented through diversification in recent years into security and defence cooperation. India today has a strong and growing stake in Gulf stability. This includes 'strategic partnerships' with Gulf countries on issues such as counter-terrorism, money laundering, cyber security, organized crime, human trafficking and anti-piracy. Several countries in the Middle East/West Asia including Saudi Arabia, UAE, Bahrain and Palestine have decorated PM Modi with their highest national Awards. India's growing relations with these countries has had the added benefit of significantly reducing their support for Pakistan, particularly on India-Pakistan issues.
Rapidly expanding relations with West Asia have moved in tandem with a sharp upswing in ties with Israel as well as de-hyphenation of India's relations with Israel and Palestine. PM Modi's visit to Israel in 2017, the first ever by an Indian Prime Minister, provided a huge impetus to bilateral ties across the board. The I2U2 (India, Israel, USA, UAE) Initiative is helping India to straddle the earlier chasm between Israel and the Gulf nations.
''Neighbourhood First'' Policy
In addition to these strides in advancing India's security, strategic and economic interests, relations with most of India's neighbours have shown considerable improvement under the ''Neighbourhood First'' policy espoused by PM Modi at the beginning of his first tenure. In all his pronouncements, PM Modi has sought to make India's neighbours active partners and stakeholders in its development and prosperity, encouraging them to take full advantage of India's successes.
Relations with Bangladesh are better today than they have ever been since 1975. The unanimous ratification of Land Boundary Agreement and highly fruitful visits by Modi to Dhaka in June 2015, and March 2021, and Sheikh Hasina to New Delhi in April 2017, October 2019 and September 2022 provided significant fillip to bilateral partnership. Several agreements on connectivity and economic cooperation have lifted bilateral ties to new heights.
PM Modi's first visit to Nepal in August 2014, which turned out to be the first bilateral visit by an Indian Prime Minister to this country after a gap of 17 years was a huge success. PM Modi announced that India would like to work towards making Nepal a developed country by harnessing its resources to produce hydro-electric power which it would purchase from Nepal at market prices. Soon thereafter, the Indian Government responded with exemplary swiftness to provide relief and medical care to the victims of the 7.9 Richter intensity earthquake that struck Nepal on 25th April, 2015 causing countless deaths and huge destruction. PM Modi's visit to Nepal was preceded by the visit of EAM Sushma Swaraj for the Meeting of the Joint Economic Commission which was convened after a gap of 23 years. Since his first visit, PM Modi made four subsequent visits, 2 bilateral, one each to Janakpur (May, 2018) and Lumbini (May, 2022), and two multilateral, one for the SAARC Summit (November, 2014) and the second for the BIMSTEC Summit (August, 2018). All these visits helped to provide fresh dynamism and energy to the bilateral partnership. There was a short period of turbulence in bilateral ties during the tenure of Nepalese PM KP Sharma Oli who resorted to hyper-nationalism and made untenable demands on Indian territory to stay in power. However, relations have stabilized and are on a steady upward trajectory after Oli was deposed from power by the Nepalese Supreme Court in July, 2021.
PM Modi's ''Samudra Yatra'' which took him to Sri Lanka in 2015, as the first bilateral visit by an Indian PM after a gap of 28 years, was a resounding success. He was able to reach out to all segments of local society and communities and emphasize India's interest in the integrity, sovereignty, stability, security and prosperity of Sri Lanka. India's generous support in recent months amounting to around $4 billion and timely supplies of urgently needed food, fuel, fertilizers, medicines and other daily use commodities have gone a long way to establish trust between the people and leadership of the two countries, notwithstanding the tilt towards China that was evident for some years.,
In relations with Pakistan, India has given out a firm and clear message that no Talks will take place between the two countries unless cross-border terrorism by Pakistan stops. By firmly responding through surgical strikes to the Uri attack in September, 2016 and by the Balakot strike after the Pulwama terror action in February, 2019, India has categorically informed Pakistan that it will have to face retribution for any terrorist actions it carries out against India. By revoking Art 370 relating to the Special status of Kashmir in August, 2019, India has done away with any role that Pakistan might have assumed for itself in the Kashmir issue. India has made it clear that the only unfinished agenda wrt Kashmir is the return to India of the part of Kashmir illegally occupied by Pakistan.
On Afghanistan, India provided financial support and investment of $3 billion in food items, medicines, projects and infrastructure till the US forces were stationed in the country. All the Indian personnel in its Embassy were recalled to India immediately after the Taliban took over in Kabul in August, 2021. Notwithstanding the fact that India does not have a diplomatic presence in Afghanistan and India has not granted political recognition to the Taliban regime (no country has recognized the Taliban regime even after 20 months of their taking over), India has continued to supply wheat, medicines and other humanitarian assistance to the people of Afghanistan. Taliban is very keen that India reopens its Embassy in Kabul. India has deputed a Technical Team in Kabul to oversee the distribution of its assistance. India is pursuing a step-by-step approach in engaging with the Taliban. But it has not let its guard down as Afghanistan and Pakistan continue to host a large number of terrorist groups which they could activate at any time.
Relations with Maldives witnessed a sea change and registered a rapid upward trajectory in ties with India when the government of former President Abdulla Yameen was defeated and Ibrahim Solih assumed power in September, 2018. Bilateral relations have continued to grow and expand over the last four and a half years.
From the above it is clear that barring Pakistan and Afghanistan, India's relations with all other SAARC members are significantly better today than they were in 2014.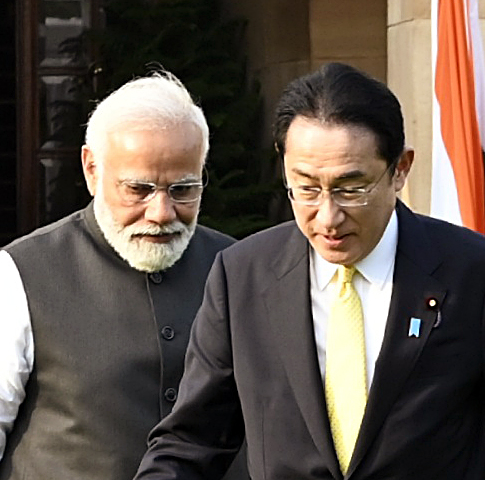 Relations with Japan and Australia
India's relations with Japan and Australia have witnessed a momentous jump. This is reflected in the conclusion of the civilian nuclear deals by India with both these countries, with Japan in December, 2015 and with Australia in September, 2014. The three countries also entered into a Supply Chain Resilience Initiative in April, 2021 during the Covid-19 pandemic on account of the weaponization of Supply Chains by China. Several initiatives have been launched between India and Japan and Australia in recent years to advance the relations in political, strategic, economic, commercial and defence arenas. Japanese PM Fumio Kishida's visit to India in March, 2023 to proclaim his New Vision for the Indo-Pacific provided a fresh impetus to bilateral ties. Australian Prime Minister Anthony Albanese declared India to be a ''top tier'' security partner during his visit to India in March, 2023. PM Modi is scheduled to visit Hiroshima, Japan in May, 2023 for the G7 Summit, and Sydney, Australia in mid-2023 for the Quad Summit.
Vaccine Maitri Initiative
The leadership displayed by India in dealing with the Covid-19 pandemic in terms of its health, economic and social impact has won it huge praise and respect from the world. That it was able to initiate far-reaching economic reforms and rapid digitization of its economy even during the pandemic has earned it kudos from the global community. The world was hugely impressed that India not only emerged as the Vaccine Capital of the world by producing huge quantities of vaccines but also by making and manufacturing indigenous vaccines. That it has been able to seamlessly administer 2.2 billion doses of vaccines to its people is a huge achievement that has been taken note of the world over. In addition to the above successes, India emerged as one of the few countries to share about 300 million vaccines with more than 100 countries, many of them on gratis basis. This compassionate and generous attitude particularly towards the developing countries of Asia, Africa and Latin America, who were denied access to the vaccines has been highly appreciated and has helped to significantly enhance India's stature in the world. The world has realized that India's development and growth is good not only for its own people but the whole world, particularly the developing countries.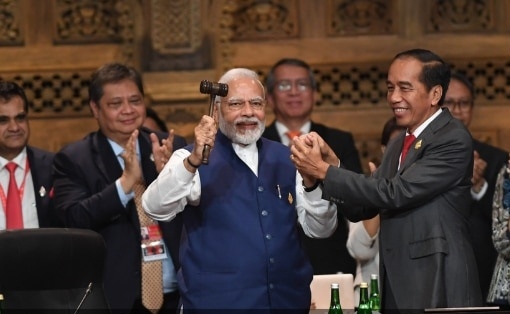 India's G20 Presidency
India's G20 Presidency during the current year has come as a shot in the arm to share its ethos of ''Vasudhaiva Kutumbakam'' with the world. This has been enshrined in the motto of its Presidency as ''One Earth, One Family, One Future.'' Taking into account the time at which India has assumed the Presidency of the G20, a huge responsibility has fallen on its shoulders. There is growing uncertainty and turbulence in global politics and economics due to the continuing adverse health, economic and social effects of the pandemic, and shortages of food, fuel and fertilizers, supply chain disruptions, rising inflation and increasing debt, particularly for the developing countries, on account of the Ukraine conflict. The world has high expectations of India as it is one of the few major countries which has cordial relations with Russia as well as with the West and Ukraine. India had played a critical role in proposing a language at the G20 Bali Summit as a result of which a consensus Bali Declaration could be forged. Polarization between the West on one side and Russia and China on the other has grown in the intervening period which has made the task of arriving at an agreed Text at the G20 Summit in September, 2023 even more difficult.
India is handling its G20 Presidency very differently from the preceding countries. Realizing that no decisions by the G20 nations would be viable or sustainable in the absence of support of the large number of developing countries in Asia, Africa and Latin America who are not a part of the process, India organized a Voice of the Global South Summit in January, 2023 to seek their views, concerns and suggestions for incorporating into the G20 deliberations. About 125 countries participated and shared their thoughts.
In addition, India is organizing more than 200 meetings under the aegis of the G20 in 59 cities of the country ranging from Thiruvananthapuram to Srinagar and from Gandhinagar to Itanagar. This is providing an opportunity to the foreign delegates to get exposed to the richness, variety and diversity of Indian culture and civilization and also make the G20 into a jan bhagidari andolan (people's movement) in India so that the ordinary people also get engaged and start understanding and appreciating the challenges and opportunities of crafting the country's foreign policy.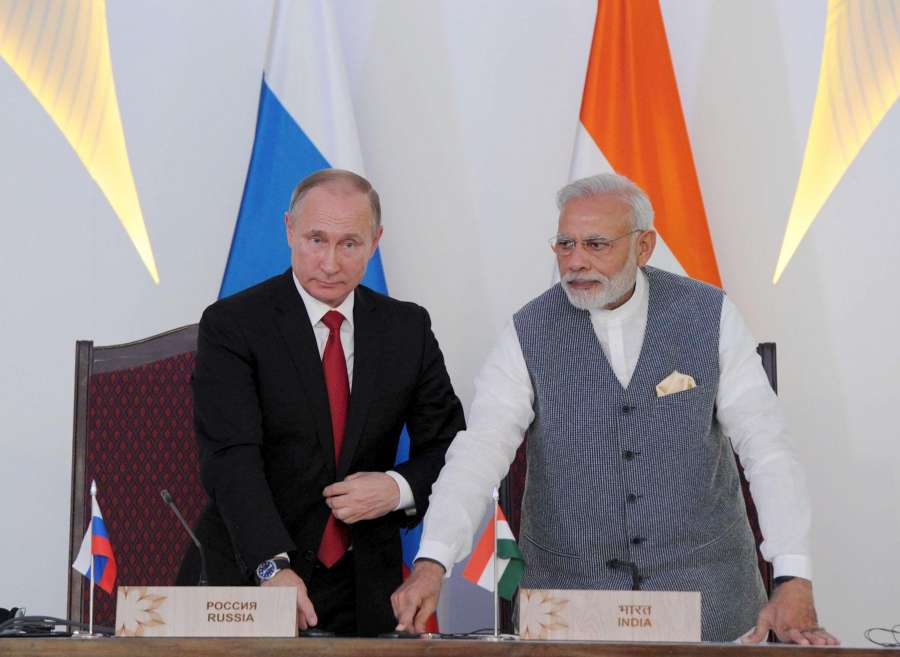 Russia-Ukraine Conflict
India and Russia enjoy a long-standing and time-tested special and privileged strategic partnership with each other. This relationship came under stress as a result of pressure from the West to adopt a clear stand and condemn Russia for its attack on Ukraine in February, 2022. India took a balanced and principled position by abstaining on most of the Resolutions in the UN Security Council and General Assembly and advocating the path of peace, diplomacy and dialogue. Keeping its own strategic national interests in view and its historical defence relations and dependence on the Soviet Union/Russia for its defence supplies, India has continued to maintain normal relations with Russia. In view of the huge spurt in energy prices on account of the Ukraine conflict and to safeguard its energy security interests, India significantly enhanced its imports of crude oil from Russia. As a result of the unimpeachable logic and spirited defence of its policies, the western nations including the US and Europe have come to grudgingly accept and respect, if not exactly applaud, India's approach to the conflict. India has continued to maintain amiable relations with Ukraine by supplying it ten consignments of humanitarian aid including medical supplies and equipment. In all its statements at the various international fora including the UNSC and UNGA, India has clearly spoken out in favor of safeguarding the principles of the UN Charter and protecting the sovereignty and territorial integrity of States. The increasing camaraderie of Russia and China and increasing emergence of Russia as a subordinate partner of China could force India to reassess its relations with Russia. The visit of Ukrainian First Deputy Foreign Minister Emine Zhaparova to India on 10-12 April, 2023 has helped promote understanding and cooperation between India and Ukraine.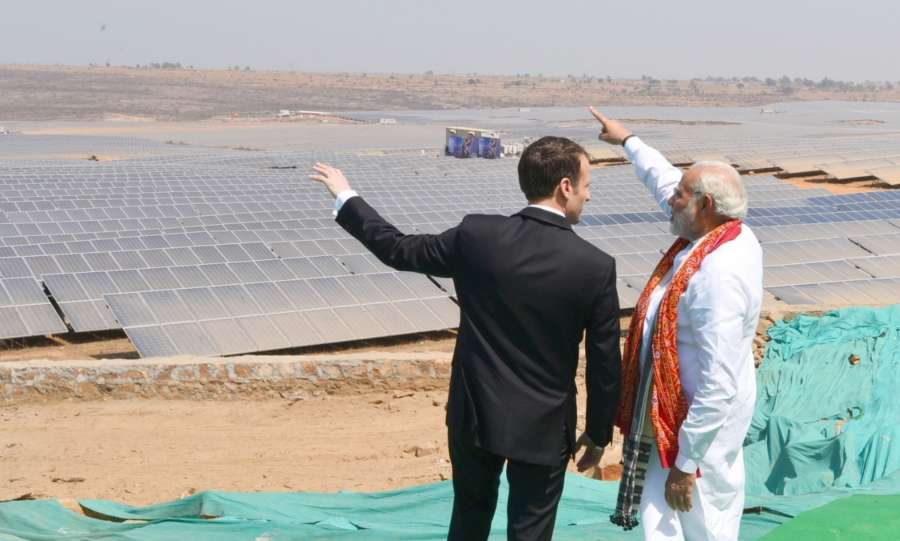 Europe
India's relations with European nations including UK, France, Germany, Italy, Portugal and several others have shown a strong uptick. India also resumed negotiations for FTAs on Trade, Investment and Geographical Indications with the European Union in May, 2021. India also launched the India-Nordic Summit to take full advantage of the innovation, manufacturing and climate preservation strengths of these countries.
Outreach to Indian Diaspora, Smaller Countries
In addition to the above momentous changes and initiatives by PM Modi over the last 9 years, several other policies have been launched to enhance India's engagement with the outside world to the benefit and advantage of India. One of the most important in this is reaching out to the Indian diaspora in different parts of the world. Starting with his visit to the US in September 2014 and addressing a huge Indian origin crowd at the Madison Square Garden, PM Modi (and his Ministers) have spoken to huge, enthusiastic crowds in all parts of the world. The Indian diaspora has been transformed into an active instrument of strengthening India's strategic and economic cooperation with its important partners and becoming a vibrant catalyst for economic development and growth of India.
PM Modi and his Ministers have reached out to many relatively smaller countries around the globe including the Pacific Island nations, in Africa, Europe, Latin America etc. to strengthen bilateral political and economic ties. India decided to open new embassies in 18 African countries, Paraguay, Dominican Republic, Estonia, Lithuania and several more to expand India's footprint and relations with countries which have thus far not been very prominent on India's diplomatic radar scene.
On the multilateral front, India successfully launched the International Solar Alliance(ISA) and the Coalition for Disaster Resilient Infrastructure Initiative. More than 100 countries have joined the ISA. India also became a member of 3 Non-Proliferation Export Control Regimes viz the Australia Group (AG); the Missile Technology Control Regime (MTCR); and the Wassenaar Arrangement (WA), and is continuing its efforts for the Membership of the Nuclear Suppliers Group which has been delayed due to opposition by China.
India's Act East Policy and its enhanced engagement with Central Asia, ASEAN, Republic of Korea are yielding positive results.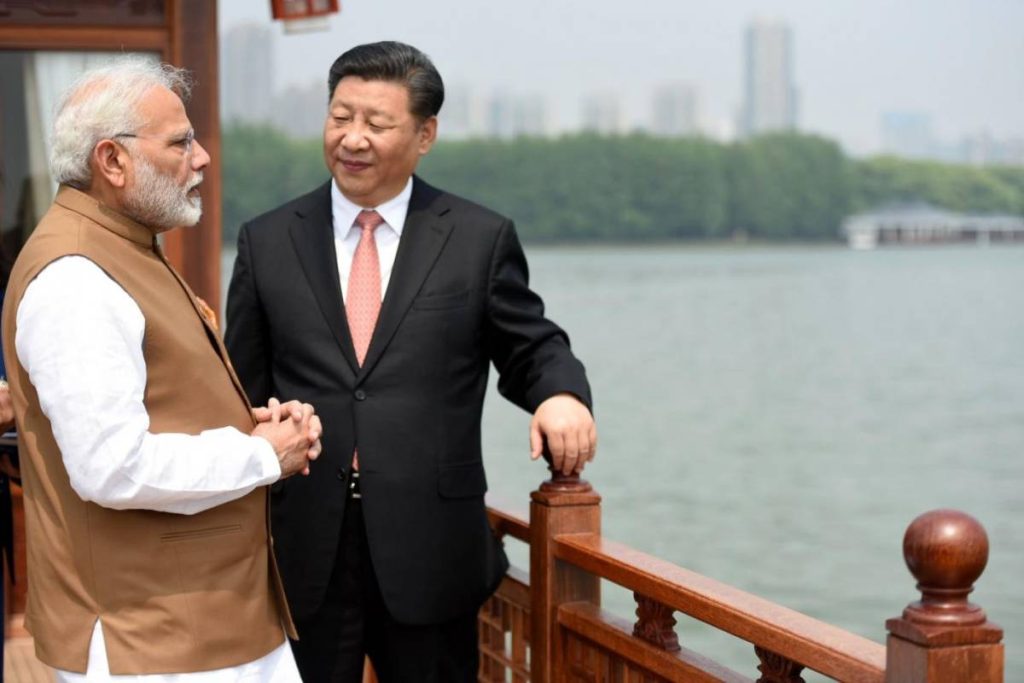 Relations with China
In the first few years of his tenure, PM Modi made every effort to have a warm, cordial relationship with China. These attempts however received a rude shock, first with the 73-day standoff in 2017 in Doklam, and then more definitively in April 2020 when China amassed large numbers of troops and military equipment on the Line of Actual Control in Eastern Ladakh in violation of the Agreements on Confidence Building Measures signed by it with India in 1993, 1996, 2005, 2012 and 2013. This Chinese action precipitated in a skirmish in June, 2020 resulting in the martyrdom of 20 Indian soldiers and the death of an undeclared number of Chinese soldiers. For the last three winters, Indian and Chinese soldiers have been stationed on the heights in Eastern Ladakh facing each other. India has made it clear that relations will not be restored to normalcy unless the status quo-ante of April, 2020 is restored. While progress on de-escalation and disengagement has taken place in a few sectors, forward deployment still continues in Depsang and Demchok areas. India has also taken several measures to dilute its economic engagement with China with mixed results.
Conclusion
Bold, courageous and visionary leadership of Prime Minister Modi has helped the country to deftly navigate the myriad challenges confronting it and to effectively leverage the huge opportunities available to promote India's political, security, strategic and economic interests. In advancing India's views and thoughts, PM Modi has been actively supported by his Ministers, Sushma Swaraj from 2014 till 2019, and Dr S Jaishankar from 2019 till now.
Over the last 9 years, the United States has emerged as the most significant partner for India and China its most formidable challenge. The success of PM Modi's and India's foreign policy in the coming years will depend on how effectively India is able expand and deepen its multi-faceted relations with the US and other partners, and safeguard and protect its interests and concerns with China. India's positive and beneficial relations with Japan, Australia, Europe, Africa and other countries can be expected to help it achieve its objectives.
(India Narrative)