Advertisement

As of now, Trump leads with 53 per cent backing from supporters and Florida Governor Ron DeSantis with 16 per cent..writes TN ASHOK
Former President Donald Trump has scored a double whammy against eight of his rivals in the GOP race for nominations by first releasing a taped interview five minutes before the debate and he hopes to garner all limelight in the media with his announced surrender before the Atlanta courts in his fourth indictment on election interference.
While media houses are working at a furious pace to collate the numbers on the Milwaukee debate on how many people watched the debate live.
Even as most American voters would digest the debate via online clips that would be pushed out by the debaters and the media, media reports said.
As of now, Trump leads with 53 per cent backing from supporters and Florida Governor Ron DeSantis with 16 per cent and surprisingly political novice Indian-American billionaire Vivek Ramaswamy with 11 per cent over all others in the polls.
MO News, which provides a digest of the morning news online to readers in the country, said given Trump continues to dominate in early state polls, the question is whether any of the eight alternatives did enough to convince GOP primary voters that they should switch their allegiances?
The former President remained pretty unscathed and none of the candidates, except Chris Christie, really made a case to voters as to why they should stop supporting Trump. Both burly Christie and slim-fit Ramaswamy were booed by the audiences on their views.
Both Ramaswamy and Nikki Haley seem set to get some momentum from Wednesday night's debate from the respective wings of the party.
Its everyone's guess that Trump will remain in the driver's seat.  With media circus in the offing later in the day, attention will quickly be back on Trump today as he formally surrenders to authorities in Georgia, where he was most recently indicted.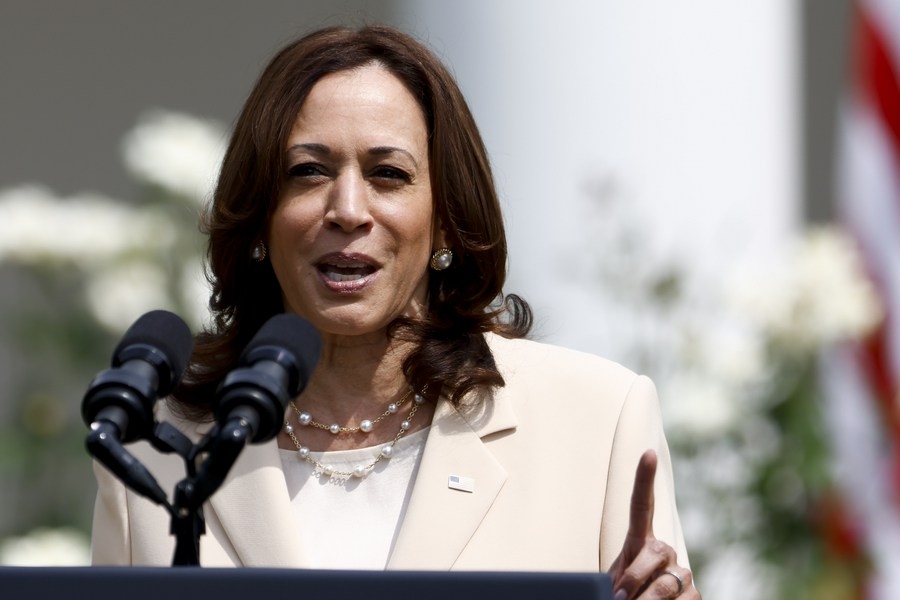 Trump mocks Kamala Harris' accent
Taking a jab at Indian-American Vice President Kamala Harris' accent, saying she "speaks in rhyme", Trump said that he does not see her as a presidential candidate for Democrats.
While his Republican rivals engaged in a war of words at the first presidential primary debate in Milwaukee on Wednesday, Trump appeared on former Fox News presenter Tucker Carlson's show where he took digs at President Joe Biden and Harris.
When asked about the chances of Harris becoming the candidate for Democrats in the next Presidential election, Trump said that "this is not a president of the United States future".
"Well, not really… She (Harris) has some bad moments. Her moments are almost as bad as it is. I think his (Biden) is worse, actually. Yeah. She speaks in, in rhyme. And, it's weird., but she has bad moments," Trump told Carlson.
"Well, the way she talks… the bus will go here and then the bus will go there because that's what buses do. And it's weird. The whole thing is weird. This is not a president of the United States future. And, I think they probably have some kind of a primary and other people will get involved," he said in a pre-recorded interview, which was posted on X just minutes before the Republican primary debate was aired on Thursday evening.
As for Biden, Trump told Carlson that he is "worse mentally than physically".
In the past, Trump's Republican rival Nikki Haley mocked Biden, saying it's unlikely he will "make it until 86 years-old", adding that a vote on on Biden is a vote on Harris. In an interview with Fox News, the former South Carolina Governor had said that Biden would die within five years of being re-elected, leaving Harris as the commander-in-chief.
Meanwhile, Trump was formally arrested on Thursday on racketeering and conspiracy charges and released on a $200,000 bond. He is accused of colluding with 18 other defendants to overturn the 2020 election result in Georgia.