Advertisement

If India can pursue a degree of independence in its foreign policy despite open pressures from the US to dilute ties with Russia, why should one assume that Russia will not exercise its independent judgment on its relations with India and will yield to any Chinese pressure? … writes Kanwal Sibal
The prospects of a joint communiqué emerging from the G 20 summit in September in India are becoming dim. The G20 meeting of the Finance Ministers/Central Bank Governors as well that of the Foreign Ministers ended with the Chair's summary and not a joint document because no consensus could be reached on how the Ukraine conflict should be reflected in it. The West remains determined to include language condemning Russia in all joint statements whereas Russia, with China's support, has hardened its position and is no longer willing to accept the language it had agreed to at the G 20 summit at Bali, in part because of India's constructive diplomacy.
Since Bali the situation on the ground has become more destructive rather than the doors of dialogue and diplomacy being slowly opened. The West's strategy remains one of arming and financially aiding Ukraine not only to sustain its resistance but to enable it to launch a counter offensive to recover enough of the Russian annexed territory to force Russia to come to the negotiating table. Ukraine's appeals, backed vociferously by Poland and the Baltic states, for more lethal arms, including artillery, tanks and now fighter aircraft, have found increasing support. In the background of the expanding militarisation of the conflict in the months after Bali, it is not surprising that positions on both sides have become harder. Ukraine's maximalist position- recovery of all annexed territories, including Crimea, reparations by Russia and war crimes trials of Russians- has public support of western policy makers. The US is opposed to any cease fire at the stage because it will be, in its view, to Russia's advantage and will confirm a loss of Ukrainian territory.
No wonder, with their strengthened strategic ties, both Russia and China opposed the Bali summit formulation on Ukraine at the G 20 meetings in India. India was put in an invidious situation, because if it excluded any reference to Ukraine in its summary the West would have construed it as Russia-leaning, and not a neutral position. In the event, India included in its Chair's summary the Bali summit language that Russia, supported by China, was unwilling to accept, reasoning no doubt that what was agreed at the summit level could not be disowned at a lower diplomatic level. This was the only choice India had to maintain a "middle ground" position.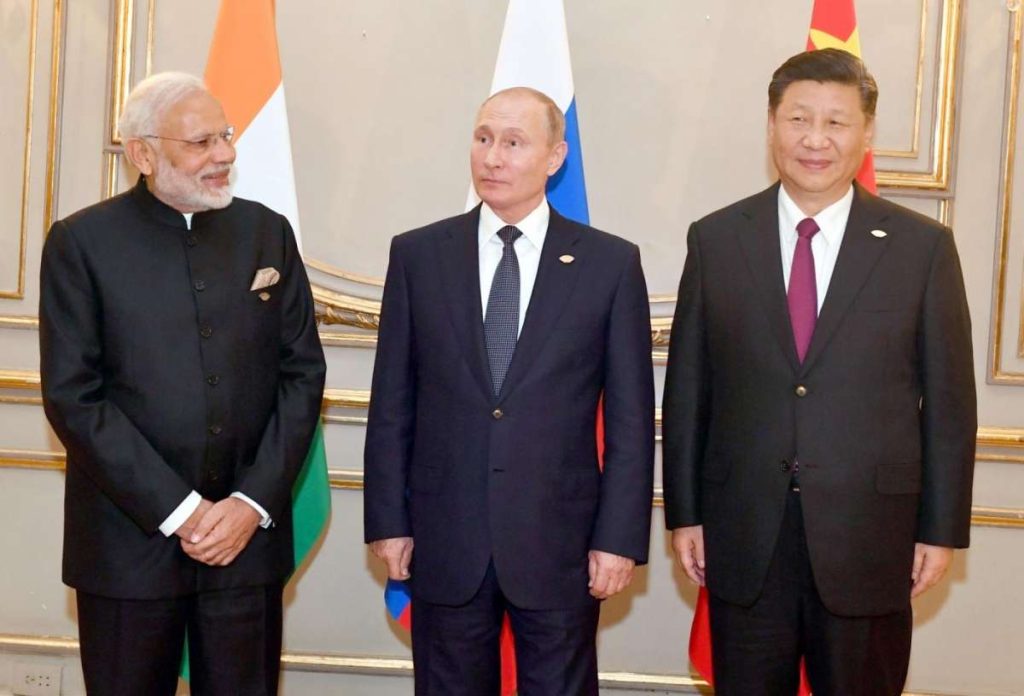 US Secretary of State has warned that at the New Delhi G 20 summit the West will not relent on its demand to condemn Russia. He foresees the G20 summit failing to issue a joint statement because of Russian and Chinese opposition, though that, in his view, will not lead to the collapse of the G 20 process as there will be agreement on a whole host of other issues. This is being unduly sanguine, as a failure at the summit level will expose the limitations of G 20 format to deal with various pressing issues of development, financial stability, economic growth, climate change and the like that the international community faces. Other than this, if one of the objectives of the G20 is reviving multilateralism, the divisions within the G 20 between the G 7 and Russia and China in particular will in fact deal a further blow to multilateralism, as a format larger than the UN Security Council without any veto provisions would also have proved ineffective.
If the goal of the West is to isolate Russia, that is not being achieved. Russian diplomacy in Africa and West Asia is active. Russia has just organised a Russia- Africa parliamentary conference in advance of the Russia-Africa summit in July 2023. Israel is being cautious in not aligning fully with the West's position. Russia's role in Central Asia is unaffected. The SCO processes are proceeding uninterruptedly, with the SCO summit to take place in India later this year. India is maintaining its close ties with Russia, with Minister Jaishankar stressing recently their steadiness over the years and their current economic expansion. Russia's ties with China are being strategically consolidated further.
Chinese diplomacy has achieved a visible success in brokering an agreement between Iran and Saudi Arabia on restoration of their diplomatic ties, which fits into Russia's close understandings with Saudi Arabia and Iran. With Russia, Iran and India working on boosting the International North South Corridor, trade flows with Russia will increase. Russia as a permanent member of the UN Security Council cannot be isolated, as on many issues member states have to reach out to it diplomatically. Being a major nuclear power it has an important role to play in the IAEA, for instance, as also in the area of peaceful nuclear cooperation in which it is cooperating with a few countries. Russia is a major arms supplier, as well as a major space power.
On the Ukraine issue, the US and Nato are putting open pressure on China not to supply lethal military arms to Russia. This ignores the fact that Russia itself is a major arms supplier to China, including the S 400s. If the West can supply lethal arms to Ukraine to counter Russia, why is it wrong in principle for China to supply such arms to Russia? Why is it that China is being asked to be neutral and prove its neutrality while the West can fight a proxy war against Russia? India does not need to hold a brief for China and stronger Russia-China strategic ties have problematic aspects for India, but can India ignore the manner in which the West is rationalising and hardening its position on Ukraine and in the process imposing more disruptive costs on the developing countries in particular. Of more concern is that if the situation in Ukraine evolves increasingly unfavourably for the West, its pressures on others, including India, are likely to increase in light of the massive political investment it has made in inflicting a major strategic defeat on Putin's Russia through Ukraine.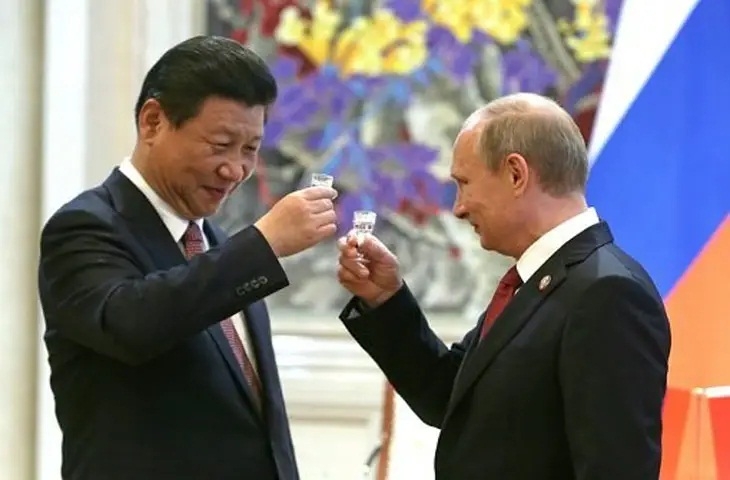 China has tried to position itself as a peace maker in Ukraine following its diplomatic success in brokering the Saudi Arabia-Iran rapprochement with the intention of gaining recognition from both sides of its rising diplomatic clout, not to mention assuming a high moral ground internationally. Its message was that despite its strengthened strategic ties with Russia, China could be useful to the West and Ukraine in initiating a diplomatic route out of the conflict. To create awkwardness for Xi's visit, the West manipulated the timing of the decision of the International Criminal Court (ICC) to issue a warrant to arrest Putin for war crimes just before the visit began. Neither the US, nor Russia and China are members of the ICC and yet this warrant was played up, with Secretary of State Blinken stating that by travelling to Russia Xi was providing diplomatic cover for Russia to continue to commit war crimes, and that China felt no responsibility to hold the Kremlin responsible for the atrocities committed in Ukraine.
This statement has implications for India's G20 and SCO presidencies. If Putin comes to India for both these summits, will India, which too is not a signatory to the ICC, be accused of providing the same cover to Putin? Does this mean that the US is pressing India not to invite Putin to both summits? In the supercharged atmosphere of hostility against Putin in the G 7 one can speculate on his presence at the G 20 summit, though one can expect him to attend the SCO summit.
China's peace initiative on Ukraine seems to have been buried during Xi Jinping's just concluded visit to Moscow. Putin handled it diplomatically by giving credit in the joint statement to China's objective and impartial position on the Ukraine issue and its peace proposal, but obtained satisfaction on Russia's core position that no country or group of countries should seek advantages in the military, political and other areas to the detriment of the legitimate security interests of other countries. Russia reaffirmed its commitment to the resumption of peace talks as soon as possible, with Putin saying at the joint press conference with Xi that the West was not ready as yet for talks.
Both sides agreed that to settle the Ukraine crisis "the legitimate security concerns of all countries must be respected, bloc confrontation should be prevented and fanning the flames avoided". The two sides called "for stopping all moves that lead to tensions and the protraction of fighting to prevent the crisis from getting worse or even out of control", besides opposing "any unilateral sanctions unauthorized by the UN Security Council".
Commentary in India and abroad on strengthened Russia-China ties being at the expense of India should be weighed against the argument that closer India-US ties are necessarily at the expense of Russia. If Russia by growing closer to China is supposed to have become a vassal of China, has India become a vassal of the US in growing closer the US?
If India can pursue a degree of independence in its foreign policy despite open pressures from the US to dilute ties with Russia, why should one assume that Russia will not exercise its independent judgment on its relations with India and will yield to any Chinese pressure? If Russia is satisfied with our neutrality on the proxy war between it and the West in Ukraine, why should we not be satisfied if Russia is neutral on issues between India and China? We should take a balanced view on such matters, recognising of course the need to navigate very carefully in the choppy waters ahead. Our expectations from a successful G 20 summit need to become much more realistic.
(Kanwal Sibal is India's former Foreign Secretary and Ambassador to Russia. Views expressed are personal and exclusive to India Narrative)