Advertisement

Nearly three months after LG Sinha hinted that his administration would act tough against the militant sympathizers, the J&K Government terminated the services of eleven of its employees…reports Asian Lite News
In April this year Lieutenant Governor of Jammu and Kashmir Manoj Sinha had made his intentions clear by stating that there was no place for militancy and its supporters in the newly carved out Union Territory, and the militant sympathisers would be punished.
"Jammu and Kashmir is moving ahead with a new vision and there is no place for terrorism…. There is a need to take inspiration from the brave hearts and martyrs and their families. Also, there is a need to take a vow that terrorists and their supporters will not be forgiven in J&K," LG Sinha had said.
Nearly three months after LG Sinha hinted that his administration would act tough against the militant sympathizers, the J&K Government terminated the services of eleven of its employees, including Syed Ahmad Shakeel and Shahid Yousuf—two sons of the Pakistan based self- styled chief of Hizbul Mujahideen (HM), Syed Salahuddin, designated international terrorist—they were dismissed in the interest of the nation.
The designated committee in J&K UT for scrutinising and recommending cases under Article 311(2)(c) of the Constitution of India, in its 2nd and 4th meeting, recommended 3 and 8 cases respectively, for their dismissal from the government service.
Three officials recommended for dismissal in the second meeting of the Committee pertain to an orderly of ITI, Kupwara who was an Over Ground Worker of militant outfit Lashkar- e -Taiyaba (LeT). He was providing information to the militants about the movement of security forces, abetting and harbouring militants to carry out activities in a clandestine manner.
Similarly, two teachers both from Anantnag District were found involved in anti-national activities including participating, supporting and propagating secessionist ideology of Jamaat-Islami (JeI) and Dukhtaran-e-Millat (DeM)."
The eight government employees recommended for dismissal in the fourth meeting of the Committee include two constables of Jammu Kashmir Police who have supported militancy from within the Police department and provided inside information to the militants as also logistic support. One constable, Abdul Rashid Shigan, has himself executed attacks on the security forces.
Syed Ahmad Shakeel and Shahid Yousuf—sons of HM founder Syed Salahuddin were terminated after they were found involved in funding militants.
While tracking the terror funding case, National Investigation Agency (NIA) concluded that Shakeel and Yousuf were involved in raising, receiving, collecting, and transferring funds through the Hawala transaction for militancy activities of HM.
Another Govt employee with militancy link, Naaz Mhammad Allaie, an orderly of the Health Department is an Over Ground Worker of HM and has a history of direct involvement in militant activities. Two militants were harboured by him at his residence.
The two employees of the Education Department who were terminated from the services are Jabbar Ahmad Paray and Nisar Ahmad Tantray. They were actively involved in furthering the secessionist agenda unleashed by the sponsors from Pakistan and are Jamaat-e-Islami ideologists.
Shaheen Ahmad Lone, an Inspector of the Power Department was found involved in smuggling and transporting arms for HM. He was found traveling with two militants on Srinagar-Jammu National Highway carrying arms, ammunition and explosives in January last year.
Out of the 11 employees dismissed, four are from Anantnag, three from Budgam, one each from Baramulla, Srinagar, Pulwama and Kupwara. Out of these, four were working in the Education Department, two in Jammu Kashmir Police and one each in Agriculture, Skill Development, Power, SKIMS and Health Departments.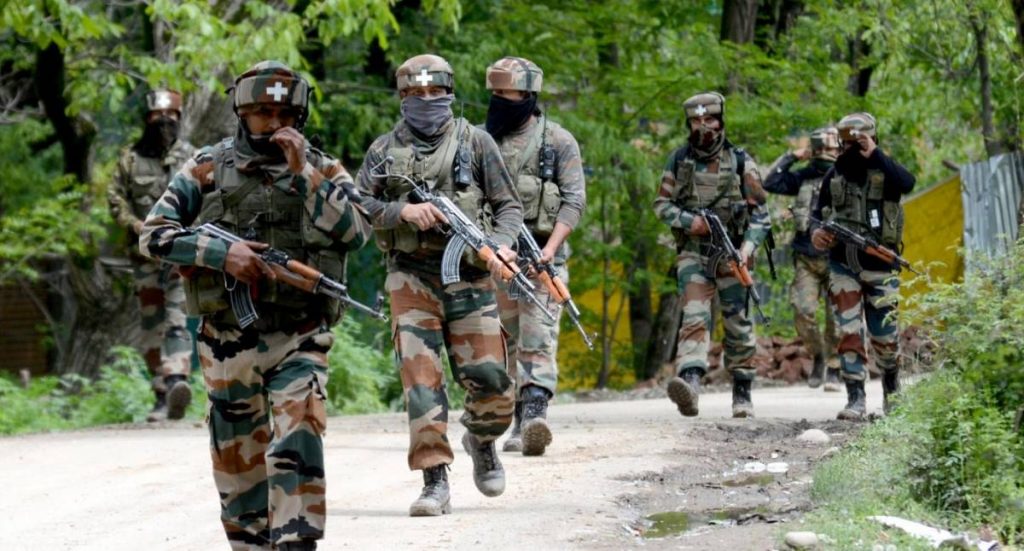 Process commenced in July 2020
The process to act against the terror-friendly employees of J&K Government had commenced on July 30, 2020 when the UT Government amended the service rules and dispensed with the requirement of an enquiry for dismissal of the employees emerging as a threat to the security of the State. For the first time, the government devised a mechanism to terminate the 'anti-national employees' without facing judicial scrutiny.
Principal Secretary Home and Additional Director General of Police Criminal Investigation Department were given sweeping powers to decide the fate of the employees reported to the government as a threat to the security of the State
In October 2020 the UT Government amended Article 226 (2) of the Jammu and Kashmir Civil Service Regulations for a provision to retire at any time any government servant in the public interest after he has completed 22 years of service or attained 48 years of age.
At that point of time the government had stated that the rules have been amended to identify the deadwood and show an exit door to them. But more than non-performing employees the LG led dispensation wanted to tighten the noose around employees with militant sympahies. The earlier provisions empowering the government to prematurely retire an employee on the basis of non-performance, misbehaviour and bad conduct were "very vague". As a result, all those who were retired prematurely managed to rejoin service following court orders. Following the amendment, the UT service regulations were brought at par with those followed at the Centre.
In April this year the J&K Government had invoked a clause in Article 311 to bypass the requirement for formal inquiry. It was done to set the ball rolling to purge the Union Territory's administration of dissenting employees "in the interest of security of the state.
A Special Task Force (STF) was constituted by the LG Sinha's administration, to "scrutinise cases of employees suspected of activities requiring action under Article 311 (2) (c)".
According to order number 355 issued by J&K's General Administration Department, the task force headed by J&K's intelligence chief R.R. Swain, who served for a decade in the Research and Analysis Wing before returning to J&K, had to "compile records of such employees, wherever necessary and to refer it" for action to a committee headed by the J&K Chief Secretary. The grounds for an employee's dismissal were to be supported by an interrogation report and other collateral evidence to justify dispensing with the holding of an inquiry in the interest of security of the State.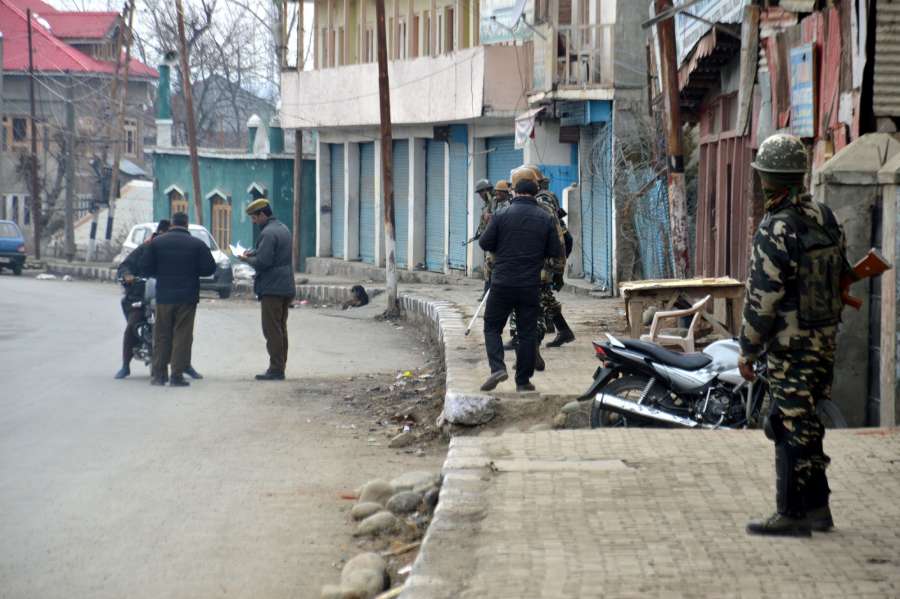 First dismissal of govt employee
In April this year the J&K administration vide order No: 400-JK (GAD) of 2021 Dated 30-04-2021, terminated the service of Idrees Jan, a teacher at Government Middle School Kralpora in Kupwara district. "Whereas the Lieutenant Governor is satisfied after considering the facts and circumstances of the case and on the basis of the information available that the activities of Mr. Idrees Jan, Teacher Government Middle School, Kralpora, Kupwara are such as to warrant his dismissal from service. And whereas, the Lieutenant Governor is satisfied under sub-clause (c) of the proviso to clause (2) of Article 311 of the Constitution of India that in the interest of the security of the State, it is not expedient to hold an enquiry in the case of Mr. Idrees Jan. Accordingly, the LG hereby dismisses Idrees Jan, from service, the order had stated.
Jan's dismissal was the first dismissal of a government employee indulging in anti-national activities by Sinha led dispensation.
On April 16, 2021, a woman Special Police Officer (SPO) in south Kashmir's Kulgam district was arrested and terminated from the service for "glorifying terrorism" and "obstructing" government officials in the discharge of their duty. SPO Saima Akhter, was arrested under the Unlawful Activities Prevention Act.
More dismissals to follow
The security agencies have prepared a list of nearly 1000 J&K Government employees who pose threat to law and order and security and integrity of the State.
Multiple probes have revealed that a section of the government employees are proactively promoting hatred against India, assailing New Delhi's August 5, 2019 decision, trolling and threatening politicians, government officers and business tycoons on social networking sites including WhatsApp, Facebook, Twitter and other platforms.
The government has collected concrete evidences against these employees, who were promoting anti-India narrative.
The present dispensation in Jammu and Kashmir is determined to take tough action against such employees who are fanning violence and creating law & order troubles on ground by their physical participation.
Presently, the strength of Government employees in J&K UT is around 4.5 lakhs. It's an open secret that a section of the government employees in Kashmir have been a part of separatist narrative.
Prior to August 5, 2019—when the Centre announced its decision to revoke J&K's special status and bifurcated it into two union territories—a huge number of employees took part in anti-state protests. These employees resorted to anti-India slogans, stone pelting and other unlawful activities frequently.
Erstwhile regimes often failed to dismiss the employees who publically supported militant activities and acted as their sympathizers.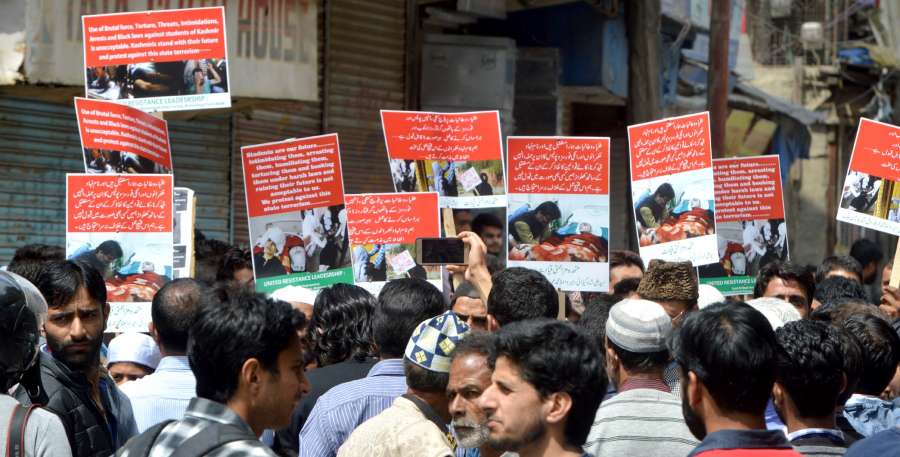 Govt employees association was part of Hurriyat
Even an association of the government employees had joined and operated for over 20 years as a constituent of the secessionist Hurriyat Conference.
From the outbreak of militancy in 1989-90 to the street turmoil of 2016, the J&K government employees and their associations participated openly in the demonstrations and conferences organised by separatist and militant organisations. However, the senior ranks stood away from such activities after 1998.
In the very beginning of the militancy in 1990, the government employees sympathetic to the separatist cause managed signatures of almost all the top-ranking bureaucrats on a resolution demanding plebiscite in Jammu and Kashmir under the UN Security Council resolutions of 1948 and 1949.
Later in 1990, they proceeded on a 72-day shutdown of government offices and services when then J&K Governor Jagmohan terminated five senior officers for supporting the separatists and militants. However, they were all reinstated by Prime Minister Chandra Shekhar's government on the persuasion of the two J&K politicians Dr Farooq Abdullah and Saifuddin Soz.
Bureaucrat-turned-politician Naeem Akhtar, who later resigned and joined Mufti Sayeed's Peoples Democratic Party (PDP) and went on to become a cabinet minister was among the five dismissed officers.
Family members and relatives of the separatist leaders in the State government service were particularly promoted and placed on prize positions in some regimes from 2002 to 2019. Some of their close relatives were taken into the government services through the backdoor.(IndiaNarrative)