Advertisement

The protesters also decried the Taliban's actions back home and said Afghanistan's citizens don't deserve any of this, reports Asian Lite News
As President Joe Biden continues to face global questions about his approach to the conflict and over the worsening situation in Afghanistan as the Taliban took over Kabul, Afghan nationals in the US protested against Biden. Visuals showed scores of Afghan nationals gathered outside the White House, shouting slogans such as "Biden you betrayed us", "Biden you are responsible". The protesters also decried the Taliban's actions back home and said Afghanistan's citizens don't deserve any of this. "Death to Taliban" was another slogan that echoed outside President Biden's official residence.
"The women of Afghanistan will have no freedom. We do not want to go back to the burqa's that is not freedom," Farzana Hafiz, who lives in Northern Virginia, said. "My family is there and I'm dying every minute. Since last night I haven't slept yet. I couldn't sleep. It's a tragedy for my people. I can't sleep," she said as she broke down.
Hafiza says her 21-year-old nephew was trying to come out of Afghanistan. "He was to get his visa and he would then come to us, but now we don't know what lies in his future," she said.
Joe Biden, who ordered the pullout of US troops from Afghanistan, has not yet issued any official statement or post on his social media handles regarding the intensifying crisis in the war-torn country. He is on a vacation at the Camp David presidential retreat in Maryland. White House advisors pointed out that they were discussing ways of how the president should address the situation in Afghanistan.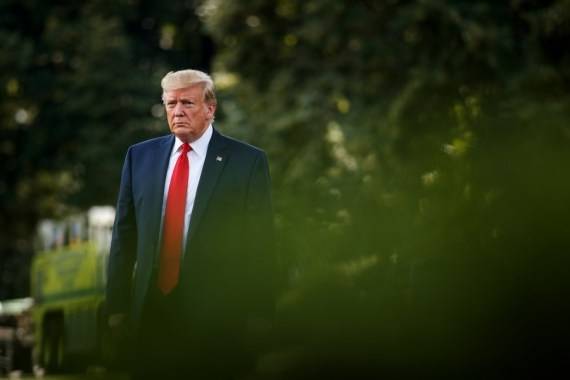 Trump demands Biden's resignation
Former US president Donald Trump, meanwhile, blamed his successor for the crisis in Afghanistan and demanded his resignation from the top post. Issuing a statement on Sunday, Trump said it was time for Joe Biden to step down "for what he has allowed to happen in Afghanistan, along with the tremendous surge in Covid-19, the Border catastrophe, the destruction of energy Independence, and our crippled economy."
Taliban fighters declared on Monday that the war in Afghanistan is over after taking over Kabul and later the presidential palace as several countries are racing against time to evacuate their citizens. "Today is a great day for the Afghan people and the mujahideen. They have witnessed the fruits of their efforts and their sacrifices for 20 years," Taliban spokesperson Mohammad Naeem told Al Jazeera. Calling for peaceful international relations, Naeem said the Taliban did not want to live in isolation, adding "We will not allow anyone to use our lands to target anyone, and we do not want to harm others."
UNSC to meet to discuss Afghan situation
The United Nations Security Council (UNSC) will meet on Monday to discuss the situation in Afghanistan, where the government has collapsed and the Taliban has seized the presidential palace.
This will be the second meeting on Afghanistan under India's presidency at the council. Estonia and Norway have requested this urgent session.
The meeting is scheduled for Monday at 10 am EST. The United Nations Secretary-General Antonio Guterres will brief the Council.
Taking to Twitter, Ambassador of India to the United Nations, TS Tirumurti said: "UN #SecurityCouncil to meet on Afghanistan. Indian Presidency will convene briefing and consultations on #Afghanishtan tomorrow 16th August at 10 am. UN Secretary-General @antonioguterres to brief #UNSC."
UN Secretary-General Antonio Guterres on Friday had urged the Taliban to immediately halt their offensive in Afghanistan and negotiate "in good faith" to avert a prolonged civil war. He also said he is "deeply disturbed by early indications that the Taliban are imposing severe restrictions in the areas under their control, particularly targeting women and journalists.
Afghanistan's government has collapsed with former President Ashraf Ghani leaving the country and the Taliban's entry into the capital, the New York Times reported.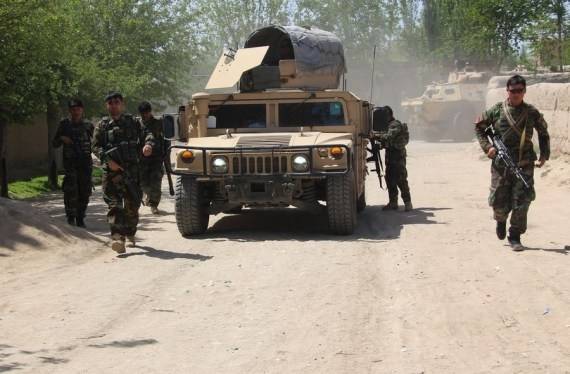 Ghani has stated that he chose to resign earlier in the day in order to prevent the Taliban from "massacring" people in Kabul.
The Taliban has since seized the majority of the city's districts, including the presidential palace.
Reports suggest that the movement will soon proclaim the re-establishment of the Islamic Emirate of Afghanistan.
Meanwhile, Afghanistan former President Hamid Karzai along with Abdullah Abdullah and former Mujahideen leader Gulbuddin Hekmatyar have formed a Coordination Council in order to prevent chaos and manage affairs related to a peaceful transfer of power.
Taliban spokesman Zabihullah Mujahid on Sunday said that Taliban terrorists have been asked to enter the capital city of Kabul. Mujahid, in an interview with Tolo News, also said that the security situation will remain under control in the city.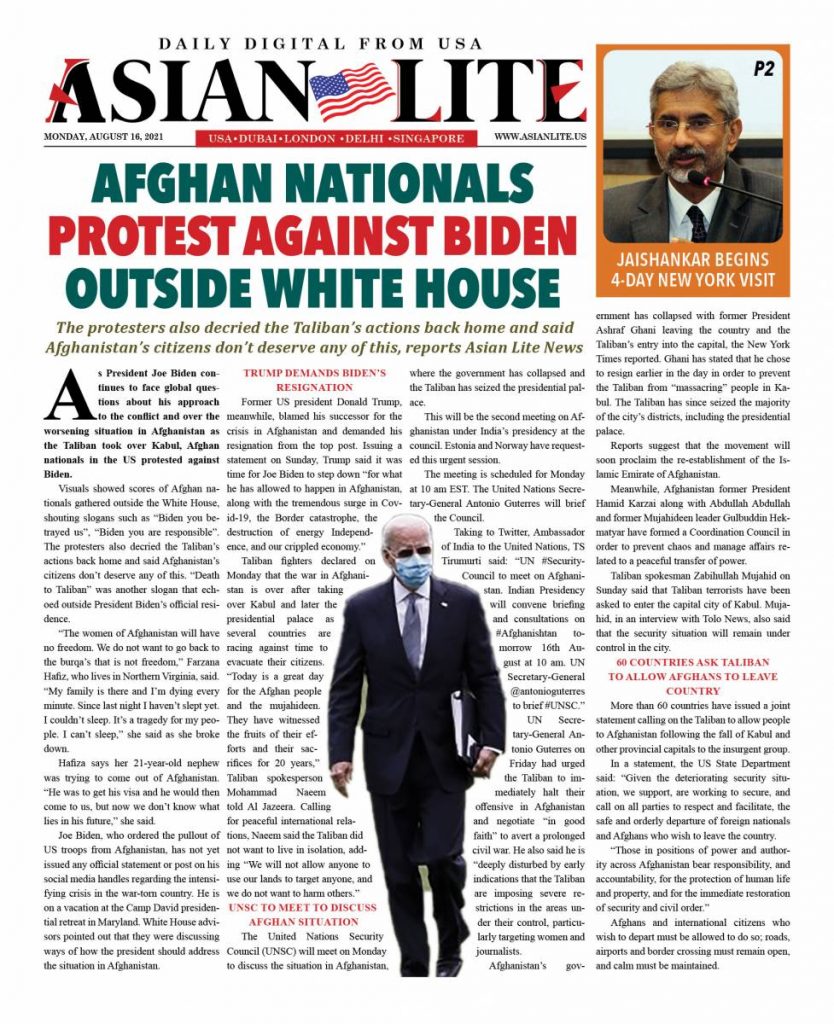 60 countries ask Taliban to allow Afghans to leave country
More than 60 countries have issued a joint statement calling on the Taliban to allow people to Afghanistan following the fall of Kabul and other provincial capitals to the insurgent group.
In a statement, the US State Department said: "Given the deteriorating security situation, we support, are working to secure, and call on all parties to respect and facilitate, the safe and orderly departure of foreign nationals and Afghans who wish to leave the country.
"Those in positions of power and authority across Afghanistan bear responsibility, and accountability, for the protection of human life and property, and for the immediate restoration of security and civil order."
Afghans and international citizens who wish to depart must be allowed to do so; roads, airports and border crossing must remain open, and calm must be maintained.
"The Afghan people deserve to live in safety, security and dignity. We in the international community stand ready to assist them", the statement added.
The statement is signed by 60 countries namely Albania, Australia, Austria, Bahamas, Belgium, Burkina Faso, Canada, Chile, Colombia, Costa Rica, Cote d'Ivoire, Croatia, Czech Republic, Denmark, Dominican Republic, El Salvador, Estonia, The High Representative of the European Union for Foreign Affairs and Security Policy, Federated States of Micronesia, Fiji, Finland, France, Georgia, Germany, Ghana, Greece, Guatemala, Guyana, Haiti, Honduras, Iceland, Ireland, Italy, Japan, Kosovo, Latvia, Liberia, Lichtenstein, Lithuania, Luxembourg, Malta, Marshall Islands, Mauritania, Montenegro, Nauru, Netherlands, New Zealand, Niger, North Macedonia, Norway, Palau, Panama, Paraguay, Poland, Portugal, Qatar, Republic of Korea, Republic of Cyprus, Romania, Sierra Leone, Slovakia, Slovenia, Spain, Suriname, Sweden, Togo, Tonga, Uganda, the UK, Ukraine, and Yemen.