Advertisement

Jalsa, the first musical in this series will be held at Bhartiya Bidya Bhavan, London on 03 December 2022.
To celebrate female pioneers in Indian classical music , – Kalakar Arts launches a new series of four musicals "Tale of Tawaifs".Indrani Datta, Classical Kathak Dancer and Choreographer narrates the historical production.
Chandra Chakraborty, North Indian Classical Vocalist, composer & Director, Founder & CEO from Kalakar Arts UK
– A trailblazing London based arts organization has sought a perfect balance between heritage and entertainment. Kalakar's Tale of Tawaifs series of musicals carry lyrics, dialogue, dance and drama that will transport the audience to a bygone era of artistic endeavour and romance. Jalsa, the first musical in this series will be held at Bhartiya Bidya Bhavan, London on 03 December 2022.Tickets available.
The organisation's repertoire has been expanding and since the last few years they have launched and toured several productions including Saraswati – Daughter of Tansen, Akhtari – the musical based on the incomparable Begum Akhtar and various other solo and ensemble recitals. The organisation has made a name for celebrating Indian classical heritage and in particular female artistic achievements. Kalakar Art's core team is primarily female and consists of practitioners who are simultaneously advancing their artistic and corporate work.
Kalakar Art's new production is centred on the historic 'tawaif' culture who was a class of professional courtesans which originated in the Mughal era and began declining in the Victorian era. The Kalakar script development team led by Chandra have devised the series "Tale of Tawaifs" focusing on eight real life personalities to be presented through four new lavish classical musicals. The first in the series is "Jalsa", an evening celebrating the pioneering achievements of Gauhar Jaan, the Gramophone Girl (born of Armenian heritage) and Indubala Debi, the Sangeet Samragyee who was closely associated with the National Poet of Bangladesh Kazi Nazrul Islam.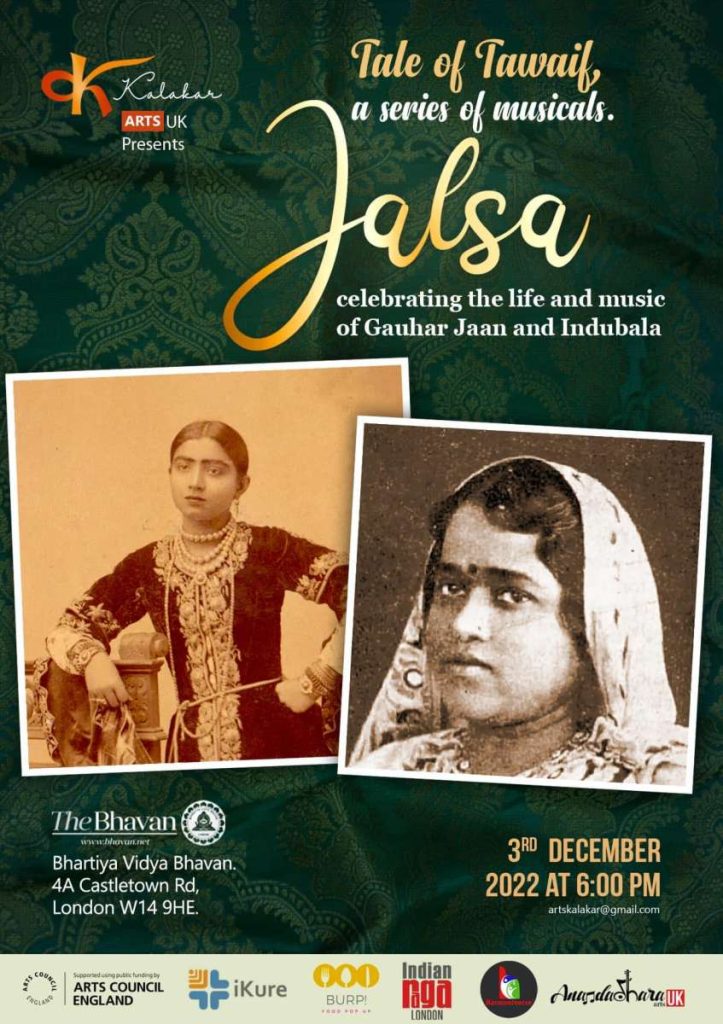 These infamous female artists each had to forge their own path against multiple sources of social and economic repression which came in the form of gender, class and racial bias. The 'tawaif's' education and training often happened as a mixed result of both luck and circumstance depending on their sponsors and teachers or gurus who were willing to teach them. More than a hundred years ago, forward thinkers like Indubala saw education as vital to social and emotional emancipation which led her to helping many destitute children of Rambagan. Despite the public adoration and wealth showered on these female artists many of them faced isolation and neglect in their final years.
"Presenting these musicals, telling the stories through acting, singing and dance is my way of acknowledging the contribution these famous musicians have made in Indian Classical music" says Chandra Chakraborty, director of the production. "They were the pioneers of expressing the emotions of music through a dance movement called "bhao". I am bringing that tradition back on stage. The audience will love every scene; they will be thrilled to hear the stories of success, fame, betrayal and so much more. I am so pleased to have the cream of Indian musicians in the UK joining me on this production along with Amy Freston, a famous Opera singer from Opera North," she added.
Meera Vinay, Head of Indian Raga London and Executive Producer, said, "It's a bold and earnest attempt to portray the life of extremely talented female musicians. I applauded Chandra and extend my full support."
Shaheen Mitul, Backstage manager, stated "It is an honour to be a part of this unique musical Jalsa which celebrates the legacy of Gauhar Jaan and Indubala Devi".
Shree Ganguly, the Poet an actor, said "Tale of Tawaifs- Jalsa" gives a voice to the women performers of past centuries, the Tawaifs who defied social norms for the sake of art and self-expression. It's an honour to be a part of such a well-researched project. Truly, it was a pleasure to work with Kalakar."
Gairika Mathur a reputed Oddissi Dancer who is part of the production said, "With such a stellar cast I am privileged to be a part of the musical grandeur." Sangeeta Lahiri Srivastava an eminent Vocalist, shared, "I will be performing as Janki Bai Chappan Churi. I can't wait to share the stage with so many great musicians and my Guruji Vidushi Chandra Chakraborty ji." Satarupa Ghosh also a Vocalist, said, "I am privileged to perform as Gauhar Jaan in this musical. Jalsa will bring to life the stories- trials and tribulations and the music of these famous courtesans."
In today's modern world is the 'tawaif' culture buried deep in the stone walls of mahals and forts? Alas this ancient profession still exists in a real and digital form albeit without the presence of the noble patrons. An evening visit to certain parts of Kolkata's Rambagan (where Indubala lived most of her life) or some of old Delhi's historic lanes illuminates the stark reality to the enquiring visitor.
On this occasion our enquiring visitor was none other than Chandra Chakraborty herself who ventured under the arches of Delhi sultanate period and the cobbled lanes of holy Benares to unearth the triumphs and griefs of these incredible female voices. Each and every question on this intrepid research trip supported by the Delhi Police and Benares based music and academic elders succeeded to unlock the treasure trove of songs and stories lying dormant. Post research script development has transformed the research discoveries into a dynamic creative conversation for the heritage conscious and cultural seeker.
Artists include:
Chandra Chakraborty- Director of the production and performing as Indubala
Satarupa Ghosh- Gauhar Jaan
Chiranjeeb Chakraborty- Gaurishankar Mishra
Dr Vijay Rajput- Kalishankar Mishra
Sangeeta Lahiri Srivastava- Janki Bai
Indrani Datta and Gairika Mathur- famous Nautch Girls Pyari and Malka Bai from that time
Shantanu Goswami- Maharaja of Datia
Amith Dey- Amrit Keshav Nayak- lover of Gauhar Jaan, background music and harmonium accompaniment
Shree Ganguli- Madhumati
Amy Freston- Opera singer
Manash Chowdhury- Kazi Nazrul Islam
Erik Schalander and Jocelyn Lightfoor- Narrators
Aniruddha Mukherjee- Tabla accompaniment
(Additional inputs from Rahul Laud)
 For more information visit www.kalakararts.org
ALSO READ: Kalakar Arts UK presents musical echoes of Sita and Draupadi