Advertisement

Johnson said he was "increasingly confident" Russia's invasion would not succeed, adding that Putin "must fail" in his aims in Ukraine…reports Asian Lite News
Vladimir Putin is engaging in "barbaric and indiscriminate" tactics targeting civilians, Boris Johnson has said.
The prime minister said the Russian president had "fatally underestimated" the willingness of the Ukrainian people to fight – and the resolve of the West.
Speaking during a visit to Poland, he also said the UK had set aside £220m in humanitarian aid.
Meanwhile, Foreign Secretary Liz Truss has said "nothing and no one is off the table" for further sanctions.
The UK is considering calling for Russia to be expelled from the UN Security Council.
Johnson said he was "increasingly confident" Russia's invasion would not succeed, adding that Putin "must fail" in his aims in Ukraine.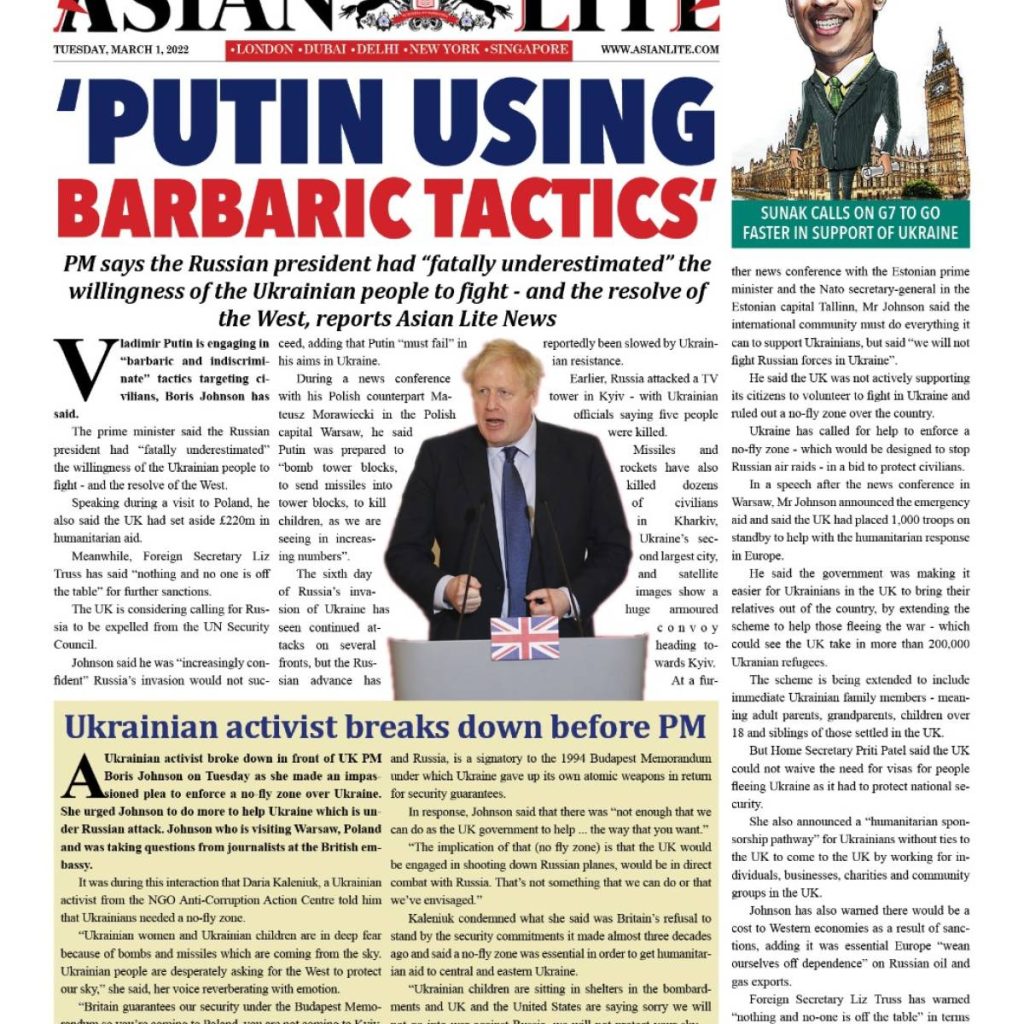 During a news conference with his Polish counterpart Mateusz Morawiecki in the Polish capital Warsaw, he said Putin was prepared to "bomb tower blocks, to send missiles into tower blocks, to kill children, as we are seeing in increasing numbers".
The sixth day of Russia's invasion of Ukraine has seen continued attacks on several fronts, but the Russian advance has reportedly been slowed by Ukrainian resistance.
Earlier, Russia attacked a TV tower in Kyiv – with Ukrainian officials saying five people were killed.
Missiles and rockets have also killed dozens of civilians in Kharkiv, Ukraine's second largest city, and satellite images show a huge armoured convoy heading towards Kyiv.
At a further news conference with the Estonian prime minister and the Nato secretary-general in the Estonian capital Tallinn, Mr Johnson said the international community must do everything it can to support Ukrainians, but said "we will not fight Russian forces in Ukraine".
He said the UK was not actively supporting its citizens to volunteer to fight in Ukraine and ruled out a no-fly zone over the country.
Ukraine has called for help to enforce a no-fly zone – which would be designed to stop Russian air raids – in a bid to protect civilians.
In a speech after the news conference in Warsaw, Mr Johnson announced the emergency aid and said the UK had placed 1,000 troops on standby to help with the humanitarian response in Europe.
He said the government was making it easier for Ukrainians in the UK to bring their relatives out of the country, by extending the scheme to help those fleeing the war – which could see the UK take in more than 200,000 Ukranian refugees.
The scheme is being extended to include immediate Ukrainian family members – meaning adult parents, grandparents, children over 18 and siblings of those settled in the UK.
But Home Secretary Priti Patel said the UK could not waive the need for visas for people fleeing Ukraine as it had to protect national security.
She also announced a "humanitarian sponsorship pathway" for Ukrainians without ties to the UK to come to the UK by working for individuals, businesses, charities and community groups in the UK.
Johnson has also warned there would be a cost to Western economies as a result of sanctions, adding it was essential Europe "wean ourselves off dependence" on Russian oil and gas exports.
Foreign Secretary Liz Truss has warned "nothing and no-one is off the table" in terms of further sanctions on the Russian economy, Mr Putin and the "highest echelons of the Russian elite".
She told the UN Human Rights Council in Geneva the Russian president was responsible for civilian deaths and more than half a million refugees so far.
On Tuesday evening, the government announced new sanctions against Belarusian individuals and organisations. Belarus is closely aligned with Russia and there is speculation troops from Belarus could join the fight on Russia's side.
During a visit to a Ukrainian church in west London, Labour leader Sir Keir Starmer told one parishioner he would "talk to the government" about a no-fly zone.
Sir Keir also said "we need to go further in our support for Ukraine", adding that he did not think the government had gone far enough to help people who were fleeing.
ALSO READ-Russia-Ukraine conflict pushes up global crude oil price again