Advertisement

Sheikh Abdullah bin Zayed Al Nahyan, UAE Minister of Foreign Affairs stressed that it is an important step towards supporting the efforts to advance joint Gulf action…reports Asian Lite News
The Qatari-Bahraini Follow-up Committee decided to restore diplomatic relations between Qatar and Bahrain in line with the principles of the UN Charter and the provisions of the Vienna Convention on Diplomatic Relations of 1961.

The decision was made during the second meeting of the committee at the headquarters of the General Secretariat of the Gulf Cooperation Council (GCC) in Riyadh, Saudi Arabia, Xinhua news agency reported.

Both sides have said that the decision stems from a mutual desire to foster the development of bilateral relations and promote integration and unity within the Gulf region, in accordance with the principles outlined in the GCC Charter, it said.
His Highness Sheikh Abdullah bin Zayed Al Nahyan, UAE Minister of Foreign Affairs and International Cooperation, welcomed the agreement to resume diplomatic relations between Bahrain and Qatar, stressing that it is an important step towards supporting the efforts to advance joint Gulf action, for a brighter future for the GCC countries to achieve prosperity and benefit the two nations in serving their common interests.
Sheikh Abdullah wished both countries further prosperity and development.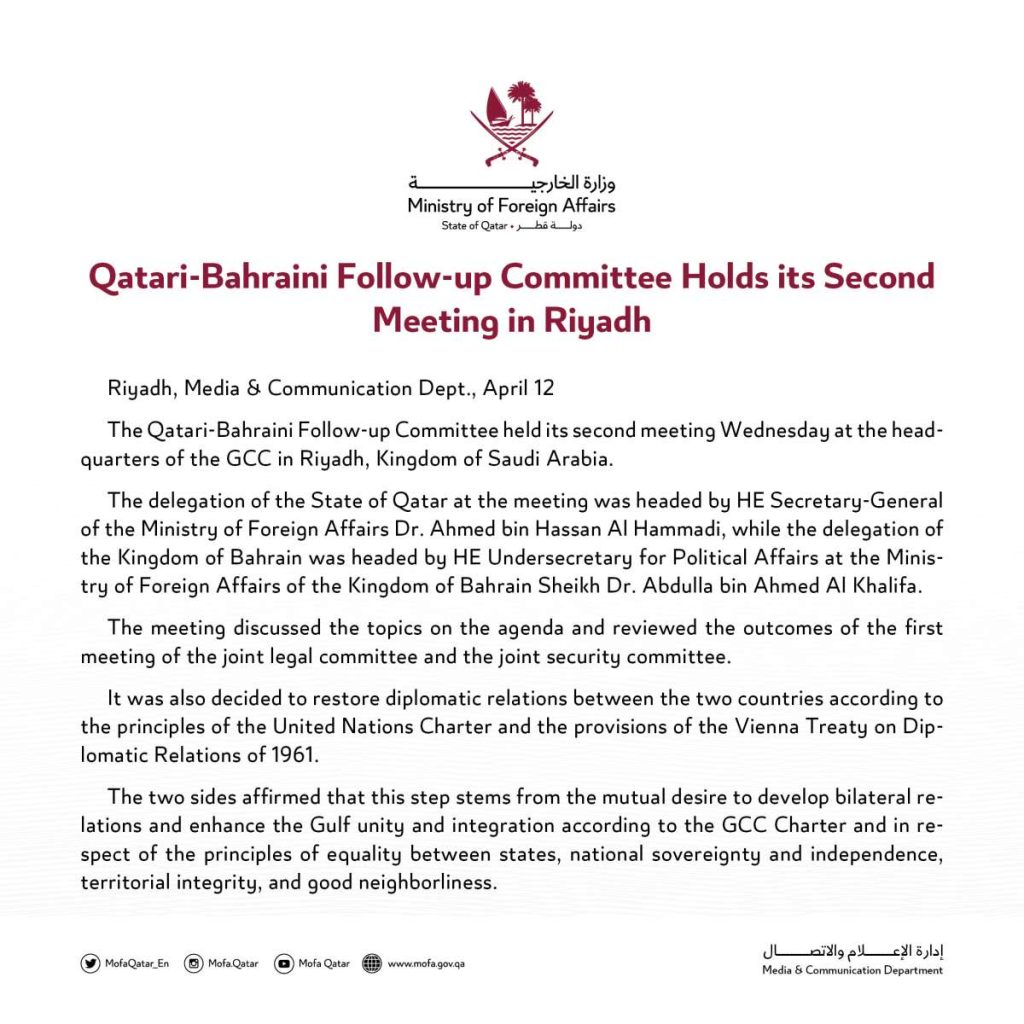 Saudi Arabia welcomes the decision by Qatar and Bahrain to resume diplomatic ties between the two countries, the Kingdom's foreign ministry said on Thursday.
The ministry commended the positive step and said it confirms the strength of relations between GCC countries. It added that the move would contribute to strengthening joint Gulf action in a way that achieves the aspirations of countries and peoples in the region.

Saudi Arabia, the United Arab Emirates, Bahrain and Egypt broke diplomatic ties with Qatar in 2017, and imposed sanctions and blockades, due to religious and geopolitical rows.

During a GCC summit in 2021, Saudi Arabia and other countries lifted the boycotts and resumed links with Qatar.