Advertisement

Gulfood 2023 – the largest annual global food and beverage sourcing event in the world, has been opened at the Dubai World Trade Centre (DWTC)….reports Asian Lite News
The UAE places the highest priority on ensuring food security and creating strong and resilient food supply chains and ecosystems, said Sheikh Mohammed bin Rashid Al Maktoum, the Vice President, Prime Minister, and Ruler of Dubai.
Sheikh Mohammed was speaking during his visit to Gulfood 2023, the largest annual global food and beverage sourcing event in the world, which opened at the Dubai World Trade Centre (DWTC) yesterday.
The 28th edition of this event brings together F&B communities from around the world to shape the future of this rapidly evolving sector. It is 30 percent larger than previous years and features over 5,000 exhibitors, with 1,500 of them being new to the trade show. The event runs from February 20th to February 24th.
Sheikh Mohammed said, "Aligned with our vision to be a leading player in shaping the future of vital sectors that drive global prosperity and growth, the UAE continues to bring together nations, markets and industries to discuss vital issues that impact the sustainability of economies and societies."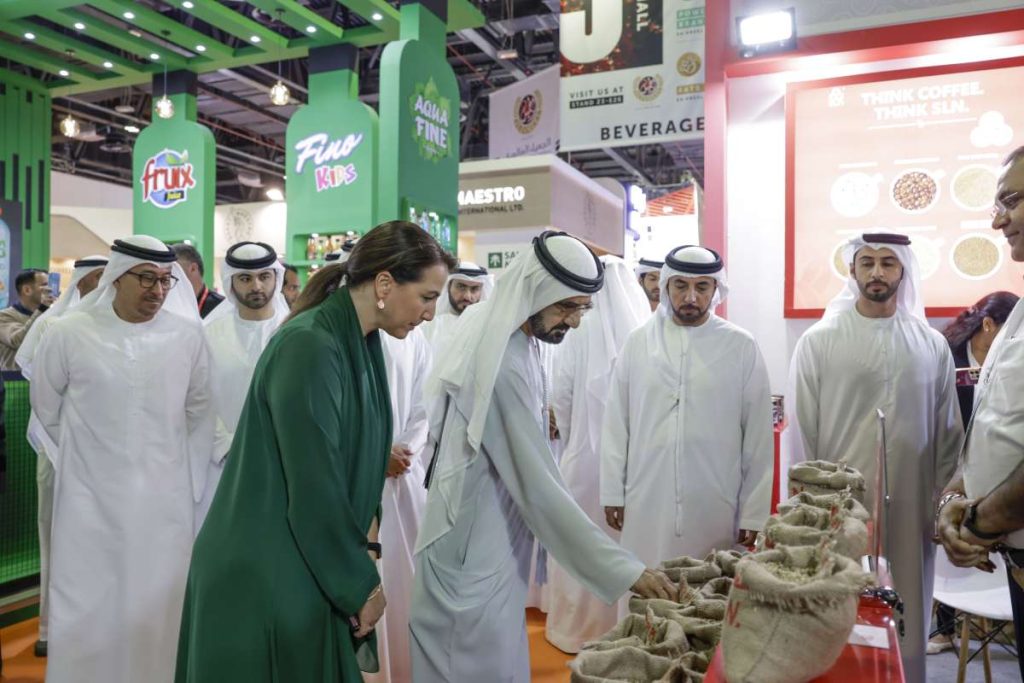 "The UAE is committed to providing an exceptional standard of living for all people living in the country, as part of which we place the highest priority on ensuring food security and creating strong and resilient food supply chains and ecosystems."
"Furthermore, we seek to foster the sharing of knowledge and advance the adoption of new technologies and solutions that promote equitable access to food resources and the sustainable production, distribution and consumption of food worldwide," he added.
Sheikh Mohammed was accompanied at the event by Sheikh Mansoor bin Mohammed bin Rashid Al Maktoum; Mariam bint Mohammed Saeed Hareb Almheiri, UAE Minister of Climate Change and Environment; Helal Al Marri, Director-General of the Dubai World Trade Centre Authority (DWTCA); and Dawoud Al Hajri, Director-General of Dubai Municipality.
Leading global brands exhibiting at Gulfood 2023 include Unilever, GMG, Americana, Agthia, Fonterra, McCain, Monin, USAPEEC, Hunter Foods, ASMAK, Minerva Foods, U.S. Dairy Export Council, Frinsa Group, Emirates Snacks Foods and Al Rabie to name a few; as well as newcomers including Brazilian food processing company BRF Global and Agricultural, and Processed Food Products Export Development Authority (APEDA).
Gulfood 2023 has achieved a record expansion, which includes the introduction of a new bespoke hall called Gulfood Plus. The 10,000 sq. m space allows first-time exhibitors to showcase their product innovations, contributing to the event's growth.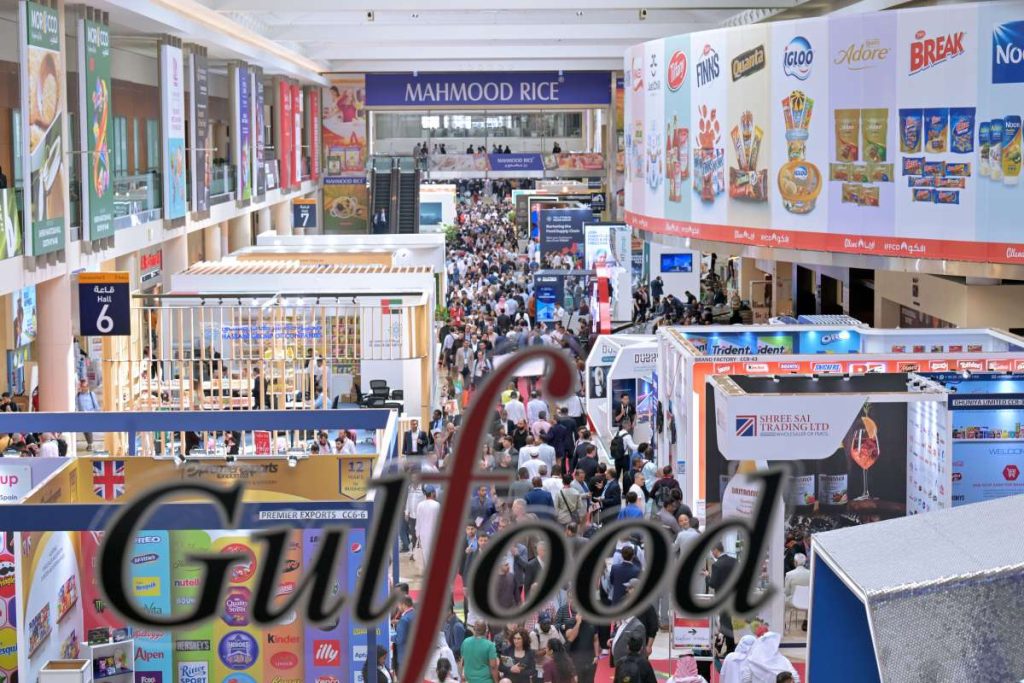 The event aims to provide a platform for industry conversations on vital issues, new product and innovation showcases, and business opportunities. With 125 country pavilions, Gulfood 2023 features first-time participants, including Armenia, Cambodia, and Iraq.
Gulfood 2023 has a specific focus on the food industry's role in creating healthier and more resilient food systems, as well as helping to reverse global inflation. With the UAE hosting COP28 later this year, the event brings together the global F&B industry to discuss how it can accelerate the shift towards more sustainable food production and consumption.
Gulfood serves as a platform for companies in the food industry to showcase their products, services, and solutions to influential buyers from around the world. It facilitates international business deals and serves as a global focal point for food and beverage sourcing.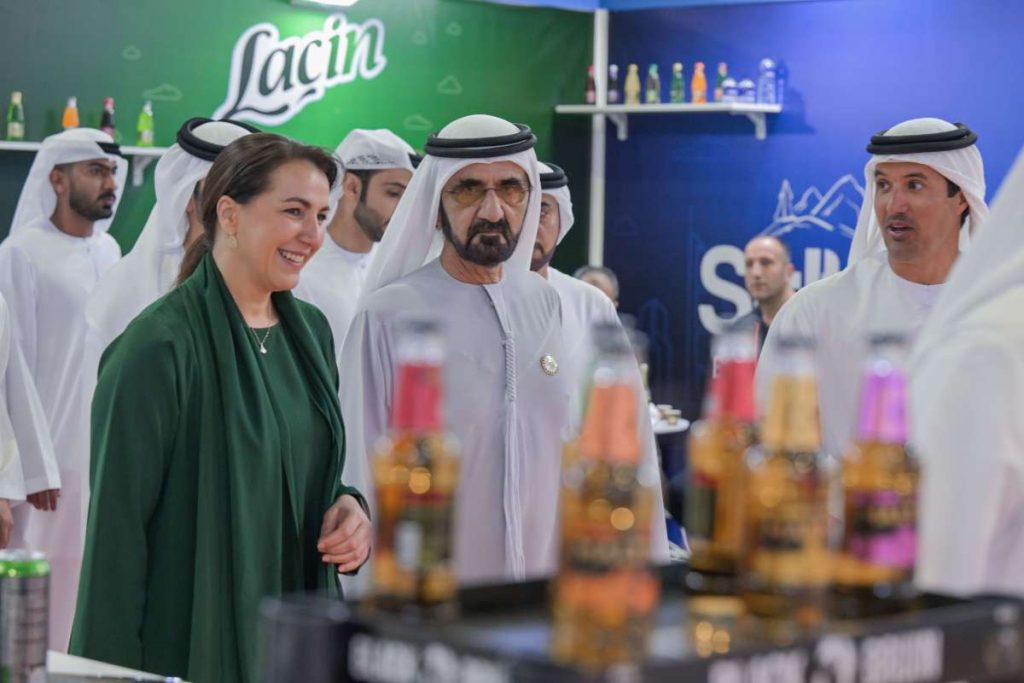 During Gulfood 2023, the Dubai Economic Development Corporation will promote manufacturing services and exports in Dubai and enable buyers to communicate and coordinate with local companies, participate in panel sessions to enhance awareness of the sector, as well as seek to attract investments in the industrial sector. The Elite Buyers Club will host delegations including 343 buyers from several countries around the world.
Dubai SME will showcase Dubai's entrepreneurial ecosystem with a focus on the F&B sector, highlights its projects and local emerging enterprises and their products and help SMEs to connect and network with international vendors with the goal of gaining access to new markets and opportunities, thereby contributing towards driving the growth of SMEs in the emirate, which represent 99 percent of the total private-sector companies operating in Dubai.